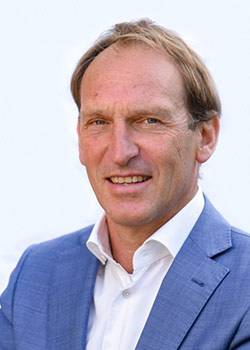 Professional Dutch Football Manager, Joost de Wit, Shares Experience in Sport Management
Students at WUAS recently had the honour of a lecture from professional Dutch football manager, Joost de Wit, who has a big footprint in the business of sport in the Netherlands. As guest lecturer, De Wit spoke online to students about sports in the global marketplace and specifically branding in the English Premier League.
De Wit has had an interesting career path: after two years as project manager at PSV Eindhoven, he became CEO at RKC Waalwijk and the club reached the finals of the play-offs for European football, causing quite a sensation. The football industry took notice of De Wit's success and in 2013 he became the CEO of Vitesse Arnhem. Currently, he is working on several international sports consultancy projects, including some within the UEFA ASSIST programme. He also teaches at the Johan Cruyff Institute.
De Wit, who was a semi-professional footballer, said he comes from an entrepreneurial-minded family and that his whole family is engaged in sport. He also invited students to share more about their background and their ties to sport. Many already had a career in the sports industry before coming to study in the Netherlands, and seek to refine their management skills.
De Wit shared some anecdotes about working with some of the world's most famous players, including the captain of the Dutch national football team, Virgil van Dijk, who currently plays as centre-back for English Premier League club Liverpool. He also talked about his work in many African and Asian countries developing professional football there.
De Wit said football is a great product in terms of business. "With football, you can be in the news and create marketing anytime you want without paying for it. The league is a product in itself and the different clubs its suppliers. You have, of course, big suppliers – the most famous clubs – but also small suppliers, and without them, the big ones would not be there. So they all have a role to play. They are all suppliers to the league."
According to De Wit, because of the media, the need for professional football content became much bigger. "Income from broadcasting rights make up about 60% of income in professional football." He said this is why things like the timings of big football games, for instance, are set at the times they are played – they want the whole world to be able to watch at a convenient time. According to De Wit, sports are facing increasing competition from other entertainment industries and giants, like Netflix, for viewers' attention.
WUP 14/12/2020
by James Wittenborg
©WUAS Press