Struggling to find an internship?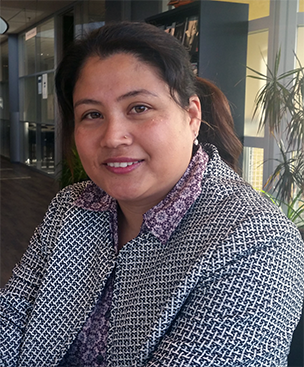 Then take heart from Nepalese student, Sarita Chhetri, who applied for almost 100 jobs before finally landing a position at a Spanish hotel, where she did both her internship and in-company training this year - despite speaking no Spanish.
In fact, Chhetri did so well at the 4-star Los Jameos Playa Hotel on the Spanish island of Las Palmas, that she has been invited back for a full-time position after she graduates next year. The management at the hotel, which has 530 rooms, was so happy with her that they want more students from Wittenborg to apply for internships.
As a EuroBA student, Chhetri did her first year at Wittenborg and her second year at the ANGELL Akademie in Germany. She speaks Nepali, German, Dutch, English and is tackling Spanish next.
"I had to bake 200 pancakes"
At Los Jameos she worked in guest relations and management. Daily duties ranged from playing host at the hotel's clubhouse, checking reservations, checking cleanliness around the pool area and even once baking 200 pancakes on one shift! Another time she had to teach the hotel's chef how to make curry dishes for an Indian guest.
Good communication is key in hotel industry
"I learned that the most important skill at a hotel is good communication, because if there is a miscommunication it can lead to many problems," Chhetri says. "Trust and loyalty is also important in the hotel industry. I adopted very quickly to the system, but not knowing Spanish made things challenging in the beginning.
"During the summer the hotel was fully booked – I suspect because there were less people going to Turkey and Egypt - and tourist numbers are expected to keep growing."
Before coming to Holland she did a BA in Humanities at Tribhuvan University in Nepal before coming to Wittenborg in 2013. "I love Holland. People are helpful and everything is very accessible in this country."
WUP 9/12/2016
by Anesca Smith
©WUAS Press