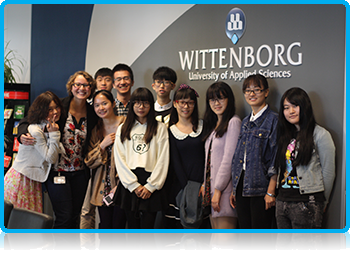 The 10 students from the Shanghai Business School who were hosted by WUAS this week said goodbye to the Netherlands today after a packed week of cultural exchange, fun and learning.The group, who were accompanied by a lecturer from the Shanghai Business School, arrived last Thursday – bleary-eyed from the long flight between Shanghai and Amsterdam's Schiphol airport. They were welcomed at Wittenborg by directors Maggie Feng and Peter Birdsall, members of staff and some of the students.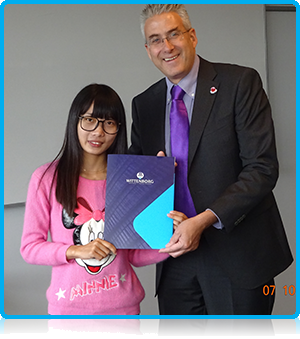 The week's programme started off with a tour of the Wittenborg-premises in Apeldoorn and an introduction to life as a student here. It also included guest-lecturers by Wittenborg senior lecturers Karin Pelle and Alexander Bauer, a taste of Dutch cuisine and a visit to some of the top-attractions in the Apeldoorn region.
On Friday the group visited the summer residence of the Dutch royal family, Het Loo Palace, accompanied by two Wittenborg students Matthew Carter and Raymon Driessen.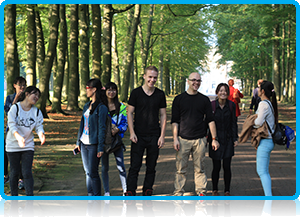 Carter said: "During the visit we had a guided tour around the palace which was very informative. Afterwards we had a walk around the Palace gardens and a drink in the Palace bar which was situated in the former guest house. In the evening we had a dinner at the Hotel where the students were staying. After the meal we asked if they would like to see our student housing as we had seen there's on our trip to Shanghai earlier this year. They were very interested to see the differences between student housing here in Holland and China."
On Saturday the Chinese students visited Amsterdam. When asked what was the most fun thing about the week, one student Xu Lu (Lucy) said: "Shopping for clothes!"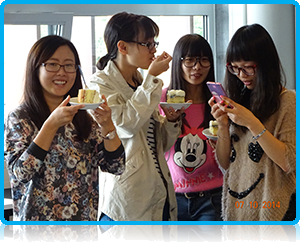 Monday evening the students had dinner at the Hotel de Paris restaurant in Apeldoorn. They were joined by a few members of the Wittenborg staff. The university's front desk and facility officer, Eva van Herel, said one interesting observation she made was that the Chinese students love to share. "We also had some great conversations around the table, including on the phenomenon of 'Chinglish' – a mixture of English and the Chinese language which immediately elevates you to a certain level of cool if you're in Shanghai and know a few phrases."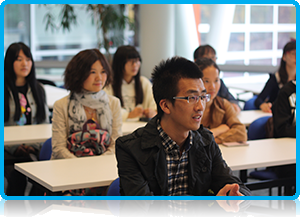 This morning the group was sent off with cake and a few encouraging words from Birdsall. One student said after this visit she definitely prefers the Netherlands above Shanghai. "It is more quiet, clean and people are definitely more friendly."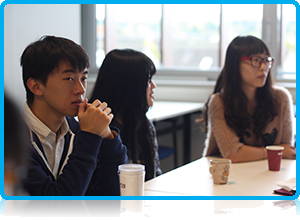 WUP 7/10/2014
©WUAS Press
by Anesca Smith