Under Santosh Aryal Student Registrations at Wittenborg Rose to Almost 1,000 by 2019
There was a tinge of sadness in the air as staff and students bid farewell to outgoing student registrar Santosh Aryal, who is leaving WUAS after 13 years to pursue new challenges in Belgium and eventually the UK. Under Aryal, Wittenborg's student registrations have risen to almost 1,000 in 2019 after starting in Apeldoorn in 2010 at around 175.
Thursday morning staff surprised him with a little cake party before an after-work gathering later in the day at Brasserie Intermezzo in Apeldoorn. There will be a formal farewell at Wittenborg's annual staff dinner on 10 January, 2020.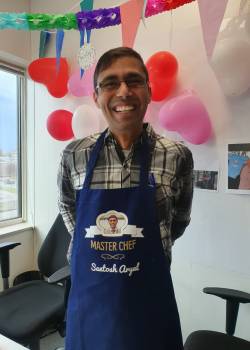 Aryal, with his trademark ease, recalled his first days as a student at Wittenborg. "I learned different things from different colleagues, but also from students. Maggie (Feng, CEO), for instance, told me that I can make 100 mistakes, but not to repeat mistakes. I will take everything I learned and put it into my new business, my new adventure. So thank you Wittenborg for giving me the platform to work and become this person who I am today."
Dutch native, Florian Oosterberg, will replace Aryal as Student Registrar. She joined Wittenborg in 2014 as an admissions officer, rising steadily through the ranks and completing a master's degree in Chinese Studies in 2017 at Leiden University.
The announcement had already been made by Wittenborg's Executive Board in September. The chair of the board, Peter Birdsall, said: "We sincerely wish Santosh the very best of luck in his future career. He has been at the heart of Wittenborg's development over the past 10 years, moving to Apeldoorn in 2010 with 175 student registrations, compared with the almost 1,000 registrations in 2019."
WUP 30/11/2019
by Anesca Smith
©WUAS Press