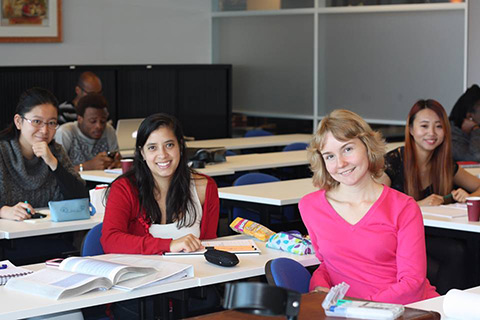 Almost 3 out of 4 Russian students who have been in contact with the Netherlands Education Support Office (Neso) want to study in Holland.
This is according to EP-Nuffic, the Dutch organization for internationalization in education.
Neso Russia conducted a survey among prospective and actual students who have been in contact with its office over the past 4 years. It also revealed that studying abroad for Russian students is often closely linked to the prospective of being able to find a job upon graduation.
Wittenborg's Chair of the Executive Board, Peter Birdsall, recently visited the Moscow State University's Business School at the invitation of Neso Russia and was accompanied by its director, Jerke Verschoor. Birdsall made a presentation on his career as an entrepreneur up to the point where Wittenborg developed from a Dutch-speaking local business school to the international and intercultural foundation University of Applied Sciences it is today. After the presentation Birdsall also attended the ICEF Moscow workshop where he met more than 50 study abroad agents from Russia.
One of the main aims of the survey was to find what the main challenges and motivations are for prospective students planning to study abroad in general and in the Netherlands particularly. "The main motivating factor in studying abroad is the availability of interesting undergraduate majors and programmes at a foreign university. When choosing a university, attention is also paid to factors such as the language of instruction and a university's reputation," the study results read. Also important is the possibility of receiving a free education, a reasonable level of financial resources for living and employment prospects. Respondents choosing the Netherlands when comparing countries often talk about its good education infrastructure, whereas the respondents opting for other countries are more concerned with financial factors.
The results showed that most of the respondents interested in studying abroad ranked the Netherlands as the most preferable study destination. In fact, after being in contact with Nuffic Neso Russia, 74% of the respondents decide to study in the Netherlands in the future or they already studied there.
Half of the respondents intend to do a bachelor's or master's degree, 20% are interested in a PhD and 13% are looking at an MBA. The fact that the Netherlands offers many English-taught programmes is a big prerogative. The survey further showed that most of the Russian students are ready to pay for higher education abroad, but scholarships and grants are very much in demand as well.
Source: EP-Nuffic
WUP 7/4/2016
by Wittenborg
©WUAS Press