The number of international students in the Netherlands has risen by almost 20% in the 2015-16 academic year, boosting the country's overall student population to a new record of 258 054.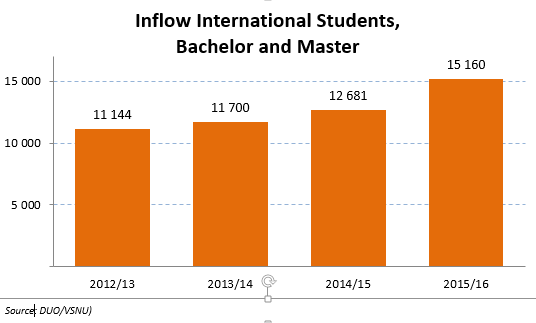 The latest figures were released by the Association for Dutch Universities (VSNU) this week. A total of 15 160 new international students have registered at Dutch institutes of higher education during the period, across all sectors. The highest number of foreign students came from Germany (3 412) and China (1 279) followed by Italy (936), Britain (763) and Greece (749). The past 3 years have seen the number of German students rise from 3 044 to 3 412.
The increase in students at WUAS, one of the most international in the Netherlands, also reflected an increase in the corresponding period. According to Wittenborg's Student Registrar, Santosh Aryal, the university's student total rose with 33% between January 2015 and January 2016.
A press release by the VSNU stated that the international student population has grown by a "spectacular 19.5%" in Bachelor as well as Master degree programmes. This development also boosted the numbers for overall students studying in the Netherlands by 1.8% compared to the previous year, attributed among other reasons to an influx of students doing a Master degree. Currently there are 160 000 students registered for a Bachelor degree and 98 000 for a Master degree despite a decrease of 0.9% in the number of first-year students. The most popular programmes are Law, Psychology and Medicine.
The chairman of VSNU, Karl Dittrich, said: "The growth in the number of international students is encouraging. It shows the quality and attraction that our institutes of higher education offer. We are also closing in on the much-strived-for ideal of a truly international classroom."
Source: VSNU
WUP 15/2/2016
by Anesca Smith & Others
©WUAS Press