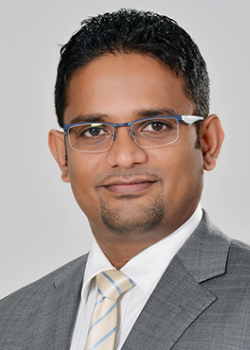 Education Expert Lasantha de Silva Returns to Wittenborg after Brilliant Run in Sri Lanka
After a remarkable career in Sri Lanka, Lasantha de Silva, an alumnus of WUAS and its former Education Operations Manager, is back in the Netherlands. De Silva has accepted a position at Wittenborg as Director Assistant, while at the same doing an MBA in Finance – his second master's degree after doing an MA in Leadership, Innovation and Change Management at York St John University in Britain. Good news for students is that he will also be teaching a few undergraduate modules.
The quintessential educationist
Reading De Silva's CV it becomes clear he is a true educationist. He worked in the Middle East banking sector before coming to Wittenborg to complete an IBA in Financial Services Management with Honours. Upon graduation he started as a junior lecturer at Wittenborg, and by the time he left in 2012 he was the institution's first Education Operations Manager.
Upon returning to Sri Lanka, he took a position as Director of Higher Studies at the University of London's programmes in Sri Lanka, while also teaching on the London School of Economics' BSc programme. From there, he was head-hunted as COO by a company working exclusively
with Scotland's Heriot Watt University – one of Britain's top-ranked universities. In 2015, he was hired to start up UCL universal college in Sri Lanka – exclusive partners for Australia's Monash University. "We started the campus in February 2016 with 46 students, two years later we had recruited 548 students. It is something I am really proud of."
Why the move to the Netherlands and Wittenborg?
"I have been very successful in my career, but the one goal I have yet to achieve is attaining my PhD and I wanted to do it outside Sri Lanka. I will commence with it soon here in the Netherlands.
"I have always loved this country. A place like London is too busy. I don't mind being busy at work, but at home I want it to be quiet and have peace of mind, otherwise I could have easily gone to work in Amsterdam. I chose Wittenborg and Apeldoorn because I know the place and the location gives me calm."
What will his new job entail?
"I will be the Director's Assistant, which means reporting to the executive and making sure I look into all the quality systems, ensuring all the processes and procedures are set in place. I am also working on work instructions for every department, so that every employee knows his or her role and responsibilities." Students will also be relieved to hear there will be an improvement in time-tabling issues, which has been bugging the system recently.
Will he also have time to teach?
"I love teaching. Even when I was COO and CEO I made time in my schedule to teach. So yes, I will be teaching some finance modules at Wittenborg."
How has he adapted to life in the Netherlands since his return? "For me it is easy, because I know the country, the company and even the weather! But my family is still adapting. The cold is definitely their biggest challenge!"
What does he miss about Sri Lanka?
"The spiciness of the food and definitely my family and friends."
What challenges does the education sector face?
"I think all this new technology makes us feel like we are highly connected, but actually, in many ways, we are socially disconnected. A lot of our interaction happens online, but there's nothing that beats meeting people in person. As a result many young people don't know how to deal with people face-to-face. They have low tolerance levels, they react badly to constructive criticism and they can't bear loss. This is going to lead to a lot of problems in the future. We live in the Age of Information, and students have all the information at their fingertips - they just have to google it. But it also gives them a very narrow understanding of certain topics. When I was a student I had to go to the library and look up things in books. Which means, I got an answer to my question, but also a lot of extra information about the topic, which gave me a broader and deeper knowledge."
WUP 1/3/2018
by Anesca Smith
©WUAS Press