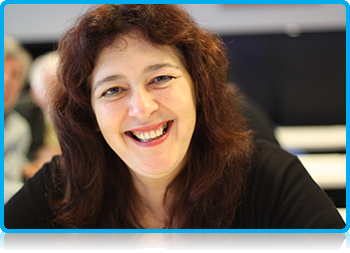 Wittenborg's Anesca Smith speaks to WUAS's leading researcher Dr Mirjam Leloux about her current role as expert panel member at next week's Dutch RCT Innovation Week. Dr Mirjam Leloux, senior lecturer and researcher in Entrepreneurship and Innovation at WUAS, is part of an expert panel who will decide the winner of the annual RCT Innovation Contest next week. RCT (Regionaal Centrum voor Technologie de Vallei) supports and stimulates innovation among SME's in the Food Valley region. In an interview Leloux talked about what constitutes a top innovator in her mind. The winner will be announced on the 26th of November 2014 at the Schaffelaar Theatre in Barneveld.
Good morning Mirjam. Being born in the Netherlands yourself, would you say the Dutch are an innovative bunch?
I am not sure, but I think there are a lot of initiatives in the Netherlands to stimulate innovation. I think the government is doing a good job in stimulating collaboration between public and private bodies as well as setting up network organizations such RCT de Vallei, which is guided by Mr Wicha Benus.
What is the best way for the government, especially the ministry of education, to spur innovation on a mass scale among young people?
I am not sure. This initiative is mainly aimed at SME's. What I can say is that if you have more innovation, it creates more jobs, higher turn-over and better products. In turn, this provides opportunities for young people to enter the job market.
When I think of innovation, I think mainly of developments in the field of technology. Do you find this is also the case with the contenders in this competition?
I think all of the entrees are technology-orientated innovations. Of course, innovation is broader than that – it is also about processing and making better organizations.
How did you end up being a judge in this competition?
I believe I got asked because I am active in the region as well as in the field of technology. Also, because of the fact that I am a lecturer (in the field of Entrepreneurship) at WUAS and is probably seen as someone with a broader view and some level of independence.
Can you tell me about the judging process?
Well, first we have to give feedback on all of the contestants' ideas. I think we received about 20 entrees. Thereafter we created a shortlist, following the special guidelines created for the competition.
What is your personal criteria when judging an innovator?
I think the protection of the idea in terms of intellectual property would be very important to me. In other words, do you have a unique idea and are you able to protect that? There should also be a market for your product, would anyone buy it. Is the product or technology adding value to its field? It also depends a lot on the capabilities of the inventor – does the inventor have access to funding to develop it to the next level? For instance, can they put it through a test-marketing phase?
Can you tell us something about your experience at Wittenborg so far?
A big attraction for me is the variety in nationalities at Wittenborg, it stimulates creativity. I also think Wittenborg is an entrepreneurial school in the way they attract new students and also in the way they are organized in attracting interesting people.
*The organizer of the event, Wicha Benus, told Wittenborg Online that the prize is the Innovatieprijs Valleiregio Award which generates a lot of prestige and good public relations for the winner and his product. According to him the entrants this year was of very good quality and were eventually shortlisted to three. The winner will be announced on the 26th of November 2014 at the Schaffelaar Theatre in Barneveld.
More information on the RCT de Vallei Innovation Contest and the organization can be found here
WUP 24/11/14
©WUAS Press
by Anesca Smith