Wittenborg's Press Officer, Anesca Smith, was awarded the audience prize at the 2018 Powerwomen Award, March 7.
Last 7th March, eve of International Women's Day, The Boschvijver Restaurant in Apeldoorn hosted the 2018 Powerwomen Award, a prestigious annual prize awarded to women from the region who have shown exceptional ability and drive. The award springs from an initiative of empowerment speaker and business coach Lucinda Douglas.
The jury award went to Léontine van Geffen-Lamers, a monument photographer who published a photo book on inspiring women, proceeds of which go to "Free A Girl". Wittenborg's Press Officer, Anesca Smith, attended the awards and was thrilled to hear she had won the audience award.

Attendees on the night could vote for the woman they thought most deserved the award. Nominees were asked to stand up and briefly explain what they were doing and why.
Besides being an internationally experienced journalist, Smith set up a clothing company, We Be Sisters, in 2017, after realising that there was a niche in the market for African women's clothes.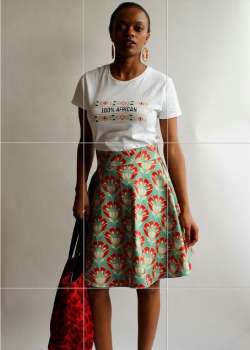 What did she say to the audience?
"I just spoke candidly about why I started making clothes and later turned it into an online shop," says Anesca, "My baby girl died not too long ago and a grief like that is so big that there are parts of your mind where you dare not go. It is simply too frightening and too awful. To stay out of my head I needed to do something creative with my hands and that is how I started making clothes, teaching myself, remembering the colourful and beautiful way women in my country, South Africa, dress.

"I also spoke about the plans that I have for my business, which is to make other African makers and artists more visible. I have a plan for that, but I am still setting things up at this stage. I want to create something where the beauty of art, technology and social responsibility meet. I knew from the beginning that I wanted to give back, so from the start 10% of whatever I earned from my business went to an organisation in Apeldoorn called Young Africa that empowers the youth and disabled in many African countries by giving them training, which will hopefully lead to work opportunities."
And how did she feel when she heard her name announced as the winner of the audience prize?
"When my name was called I was sobbing. Everyone was very lovely and genuinely happy for me. I had to sleep a night on it just to recover from the shock! It was very powerful and affirming in the sense that it was a reminder to stay true to yourself and be honest."

What advice can Anesca give to other women setting up in business like she has done?
"My advice to other people starting out is to network – even with people outside your field of business. If you are a lawyer, don't just associate with lawyers, but also with artists. There is always something you can learn. Go to events or find other ways of meeting people. The connections you make in person are very powerful and lasting."
WUP 19/03/2018
by Ben Birdsall