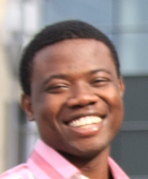 10/11/11 - On November 4, Ibrahim Shillingford finished his internship at Wittenborg. He started this internship on the 19th of July with the duel task of being an internal auditor for the checking of the effectiveness of Wittenborg's quality control, and to propose solutions in cases where this quality control falls short. This he did through a systems audit, various interviews, and observation from within his internship.
From the many challenges (communicating professionally, developing analytic skills, "waking up early!") Ibrahim learned to improve his auditing skills, and increase both his knowledge of European higher education systems, and quality control itself.
Ibrahim Vinikopoh Shillingford is Wittenborg Business School's first student from Nigeria. He arrived in the Netherlands on January 2009, and in his own words: "It was very cold!!." Since then, he has displayed a determination, and motivation to excel in his studies, and this has not wavered in the slightest. He now approaches the last stages before graduation, and we wish him all the success that he deserves.
Student Tutor, Daniel O'Connell