Students to create e-learning test for Pipeliner Streamed Sales Training (PSST)
There is laughter coming from room B0.40 at WUAS. You can hear the students down in the corridor. Mr. Tim Birdsall, without losing focus on his story, is cracking joke after joke during his project week kick-off meeting.
The students all drown to his attention while he explains the concept of his business PSST (Pipeliner Streamed Sales Training - http://www.pipeliner-sales.com/Pipeliner-Sales.htm ).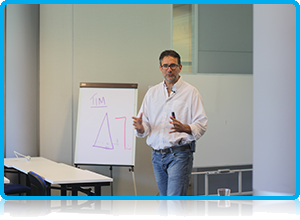 Tim Birdsall, who has been giving made to measure sales training for over 10 years, is these days more often asked to provide more leadership programmes and less sales. To make sure that his sales training knowledge would not go to waste he created PSST.
Students are given the task to provide feedback on the innovative e-learning platform – based on their unique positions as representatives of 1 possible target group for the PSST product (the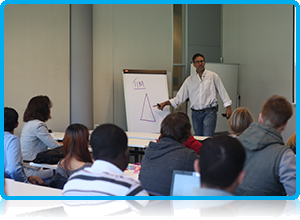 "university student studying business" is 1 possible target group for this product; the other target group are large companies (B2B) or professional sales people (B2C). The goal is to create an e-learning assessment questionnaire to measure the passively received knowledge. Additionally all phase 2 students have to come up with a pricing strategy for a complete package including 12 months of access to all films and the 60 page participant manual.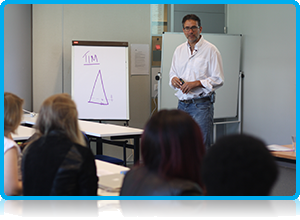 Students will be able to see past the complexity of the different process stages and tools; and be able to appreciate the base skill-set required of a pro-active salesman. After the project is completed, students will have the opportunity to test and observe these skills in action within a role-play set-up at the University.
WUP 5/6/2014
©WUAS Press
by Nicky van Riggelen