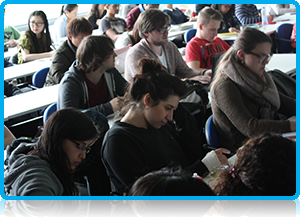 First and second year Bachelor students came together in April for this Block's Project Week. Netherlands based, American film director and producer Kevin Lee explained the scope and goals of the project. Mr Lee, who has made the University's previous promotion video , provided a two hour workshop in which he taught the students a "hands-on" approach to filming and editing.
After de workshops students were divided into groups. Each group was assigned one of the following topics: student housing, the Campus within the Aventus Building, the Facilities, Fellow Students, Staff/Teachers and Leisure/sports and living in Apeldoorn.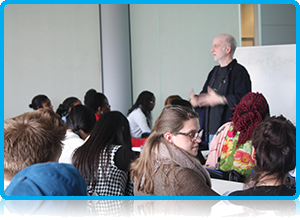 Excited as they were, most students started the project straight away. For days now, students have been walking through the corridors waving with camera's and scripts, asking both teachers and administrative staff to participate in their videos.
"It is the first time for me to have such a creative project to work on during project week, it's really different from previous blocks" says 2nd year student Veerle Knechten (from the Netherlands).
The students get two weeks to hand in their final work after which Wittenborg's Marketing Department will decide which video will be used on Wittenborg's promotion channels and who wins the free-tickets to the Cinema!
Kevin Lee runs his own company, Lee Projects, based in Amsterdam, and he also teaches for the Photography Academy, which has its main base in Apeldoorn, and has worked together with Wittenborg on numerous occasions.
WUP 28/4/2014
by Nicky van Riggelen
©WUAS Press