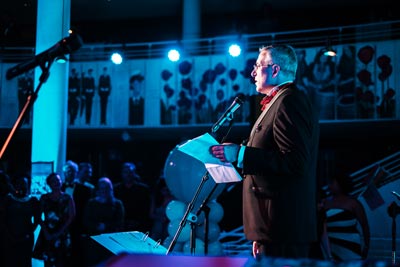 Speech given by Peter Birdsall at the Wittenborg University 30th Anniversary Gala held at the Apeldoorn City Hall on 10th November 2017.
Your Excellencies, Distinguished Guests, Ladies and Gentlemen
I'm pleased to have been allocated 10 minutes (10 minutes – my goodness … that's like asking me to submit an accreditation document of only 40 pages … oh well – this'll have to go to the appendices …)
First of all, I would like to express my sincere appreciation to the Municipality of Apeldoorn, for allowing us to organise this prestigious and important event in the heart of their city, and indeed at the heart of the local government.
Wittenborg was opened in Deventer by the Mayor on 21st September 1987.
To put it in perspective, Maggie was preparing to go to the Middle High School in Beijing, China, Karen was in the 5th class at primary school in Deventer, and I was shaking cocktails in an English Pub in Olten Switzerland.
So, you won't be getting a historical narrative of the last 30 years, although that could be quite fun too!
To highlight some of the characteristics of Wittenborg in the early years, we have used some of the archive brochure covers for the hashtag posters you will find around this space – brochures that promoted the 'toughness' and 'spiciness' – hoe 'pittig wil je het hebben' to the 'quickest way to a HBO diploma' picturing a racing car - and with a 'Wittenborger' showing the smartness of a student.
What is clear, is that the founders of Wittenborg had the same entrepreneurial and exciting ideas that characterise many start-ups, and this coincided with a time when higher education in the Netherlands, especially that of applied sciences, and even more so in the private sector, was experimenting with concepts that, at least for Dutch higher education were innovative and even new – part-time, dual programmes, short-track, fast-track, and of course internationalisation and international students.
We even found a brochure from 1998 entitled Wittenborg International College! A year before Maggie arrived in Deventer as an international student, 5 years before Maggie and I would join Wittenborg.
The seeds of our internationalisation were clearly sown in the 1990s in Deventer, and, coupled with the entrepreneurship of higher education, led to the exciting but sometimes bumpy ride that many of us providing English-taught higher education degrees have faced.
Joining Wittenborg in 2003, after 6 years of international pioneering at what became Saxion, Wittenborg was still a predominantly Dutch-speaking business school and we had not yet defined for ourselves what internationalisation meant for us, or how Wittenborg could develop it in such a way to gain a reputation and acknowledgement.
Although we had a sort of feeling of what we wanted to do, we had definitely learned about what we didn't want to do, and how we wanted to do things.
At the time, most of our international students came from China and Vietnam, and these were most certainly pioneers themselves, joining a small institute and obviously 'feeling part of something'.
We had learnt that a good student experience was one of the most important aspects of study abroad, notwithstanding the study programme, and we were determined to try and provide this in every way we could.
I am so pleased that a number of our first graduates of 2005 are here today, including Michael having travelled here from Shanghai and Alex from Hong Kong, where they both enjoy good lives and hold good jobs.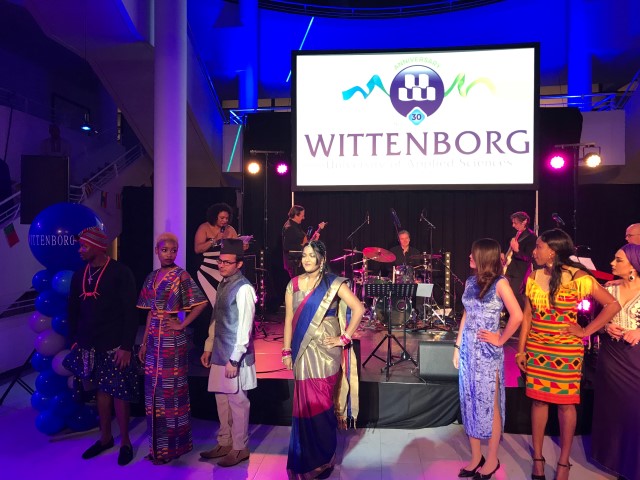 The Dutch and the International students were separate, and attempts to bring them together were often seen as difficult. Expanding an international reach was seen as vital, but doing it as a small institute always proved more difficult than one thought.
In 2005, Wittenborg started expanding its international focus to other countries, in south Asia for instance, and its international mix started to become more diverse.
Higher education in the Netherlands was being more formalised on all fronts, not least in respect to private higher education.
While trying to internationalise, at the same time we were confronted with the concept 'accreditation'.
After a now famous visit to NVAO in The Hague, at which I listened to the NVAO director at the time, Karl Dietrich, speaking to the founders of Wittenborg about the perils of the national accreditation system.
At that meeting, I nervously said that we also had a great international programme that was 'different'.
He advised a separate accreditation, a moment which I'm sure he remembers to this day.
As a result, we decided to take the bull by the horns and formalise the international programme into the broad bachelor's pathways it is today.
On the train home, we 'internationals' worked out a plan – starting with trying to work out what this accreditation business actually meant!
Step 1 – Try to google it! That was February 2006!
At the same time, there were quality changes afoot in internationalisation – the introduction of a code of conduct for students in Dutch higher education would usher in a minimum English language requirement, and other quality measures that would affect both public and private institutes recruiting international students.
One of the requirements to be listed as an institute accepting international students was (again) this accreditation business… the clock was ticking…
We went through what was one of the toughest and fastest processes of programme accreditation imaginable, from listening, and learning to producing and acting.
The change was set, in 2007, to move from a Dutch-speaking institute to an all English speaking one.
The international focus had become clearer, and now the time had come to focus on creating what we are today – a diverse, multi-cultural study environment, where people matter, people's views matter and people have been proud to share an experience during their studies that is enjoyable, sometimes exhilarating and often challenging.
Around that time, we formalised our agreement with the University of Brighton, a partnership that has not only grown with Wittenborg, but has enabled us to mature as an education institute.
I am very pleased that we are joined today by the Deputy Vice Chancellor, Chris Pole and his wife, as well as other important colleagues from the University of Brighton.
In 2009, Wittenborg was introduced to the Municipality of Apeldoorn, and by them to Aventus College.
Those responsible are here this evening and receive our thanks. It was the start of a warm and deep relationship – 'warm' in that Apeldoorn and Aventus, then and ever since, have made us and our students and staff feel very welcome, and 'deep' because the relationship between city and higher education touches many different parts of the local society.
Since moving to Apeldoorn, we have more than doubled in size, but also opened our Amsterdam location for entrepreneurship, which has proved very successful and although it's 70 miles up the road, it's still made in Apeldoorn.
Vienna? – Well that's a bit further away, and I wonder how the National Student Survey will cope with the answers of our students at the location Vienna – it's still made in Apeldoorn!
Wittenborg Today?
Well, we have developed our broad bachelor's concept into 10 or more pathways, developed double degrees and master's with Brighton, all jointly delivered here in the Netherlands. Our MBA, now with different pathways, is growing, and for our own programmes we not only have NVAO accreditation, but also the German FIBAA quality seal.
Our partnership with the UofB has now developed across three schools, and from this year, we have been offering a Post Graduate Certificate in Teaching and Learning to around 15 of our staff members as part of continuous staff development.
We are now located on both sides of the railway station in Apeldoorn, having opened our 'flagship Spoorstraat' building in 2015, with thanks to the municipality and the Province of Gelderland for their support.
Our Amsterdam location is growing with budding internationally minded entrepreneurs – so pleased to see many of you here tonight.
Our Vienna location is in its start-up phase and thanks to EWS business school for the support in this. Also pleased that a number of our Vienna team are here.
In 2017, we have almost reached 700 registered students, this year alone from over 80 different nationalities. We have a multinational team of teaching staff, support staff and management.
Without their drive and dedication, we would not be where we are today.
A higher education institute such as ours, with a focus on management, is not made through prestigious scientific advances, or top research rankings, or competing with the country's best and most acclaimed universities.
It is made by people; just ordinary people studying, learning and working together in an exciting and diverse environment, embracing internationalisation, equality and an ethical way of being, not as the exception but as the norm.
We can excel in this way.
As an illustrious ancestor once said – 'You must put yourself in the lion's mouth if the performance is to be a success.'
Thank you.
PS … Well, Winston – I can assure you, the lions' mouth is about to be opened again I rather feel.