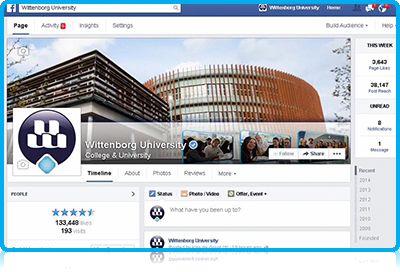 Wittenborg's social media advertising on Facebook – "likes" getting out of proportion? - In a world obsessed with social-media there can be no doubt about the value of social networks like Facebook and Twitter to boost a business' public profile. Thus, the temptation to buy likes or clicks for your page to create an impression of popularity looms large for many. The only problem is, if there is no engagement from your audience – no matter how large – what value does it really add to your business?
This is the question WUAS, like many other businesses around the world, has been trying to digest and find a suitable equilibrium.
It became especially pronounced when it recently came to our attention that the number of "likes" on Wittenborg's Facebook page have raised questions from users. Facebook adverts cause a "like" to be registered every time the ad is clicked, distorting the traditional way in which "likes" are perceived by individual users.
Over the years Wittenborg has professionalized its advertising usage through Google ads. In addition, Wittenborg's marketing department has experimented with several other advertising mediums like Facebook and LinkedIn in order to boost its student intake and brand value.
These advertising strategies have led to many new prospective students showing interest in Wittenborg and the service it offers. Its new marketing strategies have also opened new borders to reach an increasingly wider audience. However, there is a blind side to the exciting new possibilities that social media holds – namely that it is hard to determine to what extend we are reaching the intended audience versus the number of "blank shots" fired.
This inevitably leads to the question of to what extent the benefit outweighs the disadvantages and the institute has recognized the need for a more focused, targeted approach in the use of social media like Facebook.
According to Wittenborg's marketing and communication officer, Nicky van Riggelen, the university definitely gets enquiries about its programmes via Facebook than before, and an increased LinkedIn brand awareness with businesses. "For October we have already received at least 10 information requests through Facebook. This may not seem like a huge number, but Wittenborg is a small university. We use LinkedIn mostly for brand awareness with other businesses." Currently Wittenborg receives around 400 information requests a month, with around 220 thousand unique visitors to its website each year, many through google ads and facebook.
Wittenborg's front desk and facility officer, Eva van Herel, said whenever the university invests in Google ads there is a "real, positive response from people interested in seeking information about studying at Wittenborg".
WUP 21/10/2014
©WUAS Press
by Anesca Smith