After Months of Waiting, Michael from Indonesia can Finally Start Studies at Wittenborg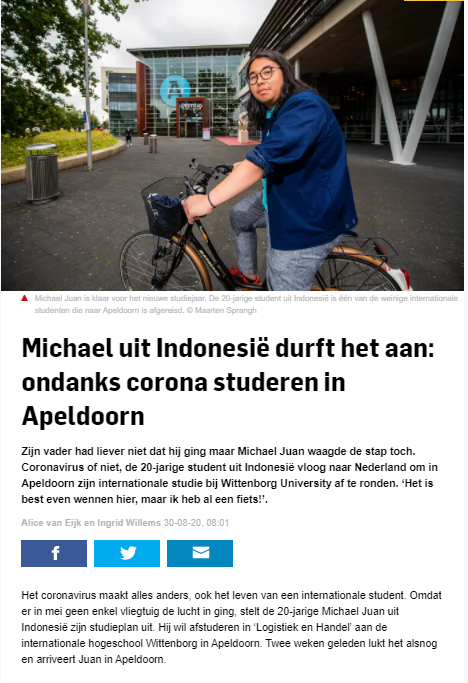 In May, he deferred his studies because there were no flights from Indonesia to the Netherlands. Now, international student Michael Juan (20) has finally made it to the land of bicycles, tulips and clogs. The ups and downs of his journey towards being a student at WUAS was shared this weekend in an article by Dutch daily De Stentor. The paper was curious about how he plucked up the courage to study abroad despite the lingering presence of COVID-19 around the world.
As the new academic year officially kicked off on Monday, Michael was one of a small number of students happily dashing from class to class, while the majority followed their lessons online. After arriving in the Netherlands, he directly went into self-quarantine, only venturing out to buy groceries. It helped that quarantine in the Netherlands is only 10 days instead of 14 like in many other countries. He told De Stentor he was surprised to find that people in the Netherlands were more relaxed about wearing face masks – unlike Indonesia where they have to be worn everywhere.
"My father was shocked when I said I wanted to study in the Netherlands, but my uncle said he thought it was a sensible move. You cannot keep delaying or waiting until corona is gone. And that is true. I wanted to get on. Eventually, Dad understood."
According to Michael, he intentionally chose to study abroad in person to broaden his horizons. What will take some getting used to is the hybrid education adopted at Wittenborg – a mix of online and in-person classes. "It means we sit in class together, at a distance, with the lecturer, but with a laptop." This approach was chosen as it is not possible for all students to join classes in person. "I still have to get used to following classes via my laptop, but I'm sure it will be okay."
Meanwhile, he's proud to have recently acquired a bicycle – for the bargain price of €40 no less! "When I shared it in the family app, people were astonished. These kind of bicycles (oumafiets – in Dutch) are really popular back home. Maybe I should consider a business in bicycles." After all, he will be studying Logistics and International Trade at Wittenborg.
WUP 3/9/2020
by James Wittenborg
©WUAS Press