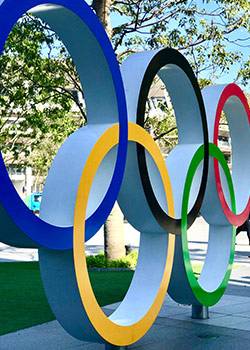 "It's raining Medals" in City where Wittenborg is Located
Not only was the Netherlands the best-performing EU-country at this year's 2020 Tokyo Olympics, but Apeldoorn – the Dutch city where Wittenborg University of Applied Sciences is located – can lay claim to a high number of medals. In the final medal table, the Netherlands is ranked 7th in the world – beating France, Germany and Italy in the Top 10.
Of the whopping 36 medals won by Dutch athletes at the Olympics, 7 of those are coming to Apeldoorn. In other words, 20%. Yes, we did the maths. No wonder the Dutch daily, De Stentor, reported "it's raining medals in Apeldoorn".
All 7 medals were won by four cyclists: Harrie Lavreysen (2 golds, 1 bronze), Jeffrey Hoogland (1 gold, 1 silver), Roy van den Berg (1 gold) and Shanne Braspennincx (1 gold).
Aside from being one of the greenest cities in the Netherlands, Apeldoorn is also heaven for sport participants. If that's you, head over to Omnisport Apeldoorn, which consists of an athletics hall doubling as an indoor velodrome. In fact, Omnisport Apeldoorn is the only venue in the Netherlands that meets international standards for indoor athletics and track cycling. It has hosted the 2011 UCI Track Cycling World Championships and the European Track Championships in 2011 and 2013. In 2016, the city hosted the opening time-trial stage of the Giro d'Italia.
This means that even Tokyo medal winners who do not reside in Apeldoorn, often train there. This includes cyclists Matthijs Büchli (1 gold) and Kirsten Wild (1 bronze). Silver-medal winner in the men's marathon, Abdi Nageeye – who was born in Somalia – first got noticed when he joined the Apeldoorn Athletics Association AV'34. He now lives in Nijmegen.
The City of Apeldoorn congratulated the Dutch Olympic team on its Facebook page, saying: "For many years they trained at Omnisport and now their efforts are bearing fruit. And of course, we are also very proud of all Olympic participants from Apeldoorn, which include Marije van Hunenstijn, Nout Wardenburg and Anne Terpstra."
WUP 14/8/2021
by James Wittenborg
©WUAS Press