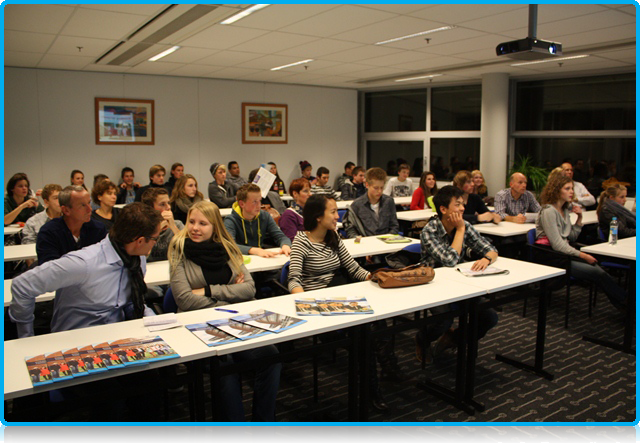 For the first time in 16 years the numbers of non-EU postgraduates fall, this is what The Guardian tells us. Last year the number of students dropped with 1%, this is what we can see in the latest number of the Higher Education Statistical Agency (Hesa). This in contrast to the Netherlands, that sees a continuous increase in the numbers of non-EU international students.
With the figures of the Hesa out, British university administrators start to fear that the recently sharpened immigration regulations have made the UK less attractive for international students. In recent years, the number of non-EU students still rose, by roughly 10% a year, but last study year there came an end to those figures.
Secretary Theresa May announced stricter immigration rules in 2010. In 2015 the now 183.000 immigrants have to be reduced to a few tens of thousands. Two thirds of the immigrants come to the UK on a student visa. Last year, Theresa May announced that the possibilities for foreign students to work in England after their study will be curtailed.
In the Netherlands, all non-EU higher education graduates can stay to work and look for jobs!
Dependent
The United Kingdom higher education institutions depend on non-EU students for up to 10% of their income. Last year the number of international students rose by 2%, which is not much. This is why British university administrators have shown their concerns. It is a pretty poor result for England. From China, however, the interest to study in England is still increasing. Last year there were 11.000 more student applications than the year before. But the Indian students (-25%) and the Pakistani (-13%) applications are dropping drastically.
Alarm Bells
In the British higher education sector, there are alarm bells sounding on several fronts. The strict immigration policy would undermine the market for foreign students. Jo Beall, the director of education and society at The British Council, emphasized that attracting the brightest and most ambitious postgraduate students is essential to maintain the reputation of the United Kingdom in the field of research and innovation. International students are a majority in many British Masters and Research programmes.
WUP 17/01/2013
Sources:
http://www.transfermagazine.nl/nieuws/achtergrond/engeland-kampt-met-terugloop-internationale-masterstudenten
http://www.hesa.ac.uk/index.php?option=com_content&task=view&id=2667&Itemid=161
http://www.guardian.co.uk/education/2013/jan/11/non-eu-postgraduate-numbers-fall?intcmp=239