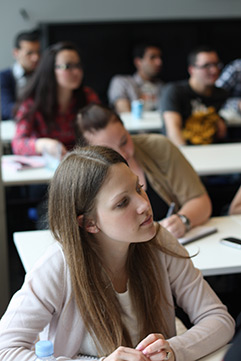 More than a third of British students want to study abroad - with the Netherlands being one of their top 10 countries of choice.
This was one of the findings of a new survey by the British Council which compared the study trends between US and UK students.
Meanwhile, a record number of British students studied abroad last year totaling 28 640 – a 58% increase on the previous year, the Higher Education Statistics Agency (HESA) has reported. This comes in the wake of harsher visa regulations to be introduced for international students in the UK which might see their numbers drop substantially.
The British Council survey also revealed that Business & Administration is the most popular programme among US students wanting to go abroad, while it is the 3rd most popular choice for UK students.
WUAS's School of Business offers a Broad Bachelor in International Business Administration (IBA) with different specializations like Economic Management, Marketing & Communication, Logistics & International Trade as well as an IBA in Entrepreneurship & Small Business which will be offered at Wittenborg's new location in Amsterdam from September 2015. Wittenborg also offers an MBA for those who wish to further their studies.
The survey found that UK and US students are more likely to go abroad for undergraduate studies as oppose to post-graduate studies. More than a third of US respondents expressed a desire to go abroad compared to 50% in the UK.
"For both UK and US students the cultural experience of studying abroad was a significantly stronger driver than academic or employability related factors. While UK students valued study abroad as a unique adventure more than a resume-builder, they were more likely than their US counterparts to recognize and be motivated by career-related factors. Cost, personal well-being and a lack of language skills were both the main deterrents and the top concerns for those who aspire to study abroad," the summary of the survey read.
In the UK 73% of participants wants to study abroad for a year or longer as oppose to only doing a semester. This is in contrast with US students where only 35% of participants want to study for a year or longer. Most (41%) only want to do a semester abroad.
The majority of UK and US students think an overseas studying experience would give them an edge in the job market – even among those who did not want to study abroad.
The British Council also underlined the importance of studying abroad. "Through overseas study, students are able to grow personally and many students return from their experiences more independent, confident and receptive to other viewpoints. Further, study abroad aids in cultivating personal skills such as intercultural competencies, problem solving skills and language proficiency, all of which double as highly desirable professional competencies in a competitive marketplace. As such, those who engage in study abroad not only generally receive better marks and graduate at higher rates, they have broader career opportunities and access to higher paying jobs.
"Further, when study abroad alumni were able to secure a job, their experience enabled them to confidently learn new competencies. According to the Institute of International Education (IIE), 'study abroad is basic training for the 21st century'.
The British Council administered surveys in the UK and the US In order to understand UK and US students' current perceived drivers and barriers to overseas study. The surveys were distributed and completed in March and April of 2015. In the UK 2 856 full-time students were surveyed and in the US 4 625 between the ages of 16 – 30.
Source: The British Council
Source: ICEF Monitor
WUP 27/7/2015
©WUAS Press
by Anesca Smith