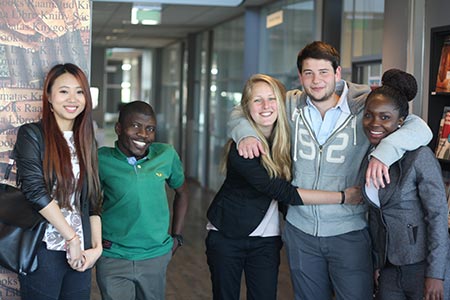 Most students in the Netherlands are happy with the quality of education they receive, the 2016 National Student Survey (NSE) has shown. Student satisfaction levels at Universities of Applied Sciences like Wittenborg have increased from 58% to 60% in the past year.
At Wittenborg students indicated they are particularly pleased with the scientific skills they attain during the course of their studies, thereby showing Wittenborg is well on its way in pursuit of becoming a leading research university in the Netherlands.
Scientific skills include critical thinking abilities, the development of scientific theories, the ability to think analytically, scientific writing as well as a methodological and academic way of researching, compiling and presenting data.
Students awarded Wittenborg a score of 7.78 out of 10 for the scientific skills they obtain here – improving on its score of 7.55 last year and also well above the national average.
Students were also of the opinion that the university is improving on the career preparation they receive at Wittenborg. It scored 7.02 compared to last year's 6.97. Career preparation entails the acquiring of skills that prepare students for the job market.
In areas such as general skills, academic guidance, lecturers, testing and assessment, study information, programme schedules, group sizes, internship experience and quality care, Wittenborg was much in line with the national Dutch average.
However, students thought that there was room for improvement in matters such as adequate student housing and the study environment, which reflects on the cultural activities on offer in the city where the university is located, accessibility and leisure activities at the institution.
Almost 700 000 students from across the Netherlands were invited to participate in the survey. The Dutch minister of higher education, Jet Bussemaker, said she was pleased with the increased level of satisfaction from students "It is a big compliment to all lecturers, deans and managers who work hard to make higher educatinson in this country as good and as interesting as possible."
WUP 14/5/2016
by Anesca Smith
©WUAS Press