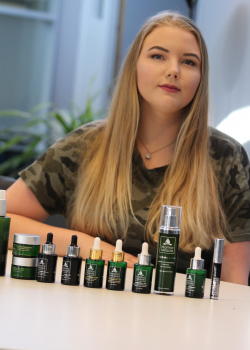 Wittenborg Student wants to Introduce the World to Norwegian Beauty Products with New Skin-Care Company
With only a few months to go before graduation, Norwegian student, Hanne Garnvik, has just started a franchise business which has the exclusive rights to sell all-natural skin-care products in the Netherlands from award-winning Norwegian brand Marina Miracle.
With all the legalities out of the way, pre-sales will open this Friday, 18 May, on the new Dutch website before the official launch on 1 June. Garnvik will open the business in partnership with her Dutch boyfriend, Joost Julsing.
The owner of the 4-year old brand, Marina Engervik, announced mid-April on her Instagram account that the products would be launched in the Netherlands and Belgium soon. So far, they have only been available in Scandinavian countries.
Hanne joined WUAS in 2015. She is in the final phase of her IBA in Entrepreneurship & Small Business and lives in Apeldoorn.
"I have always been interested in make-up and skin care, and we wanted to start our own company. I have used the Marina Miracle products myself for a while now and seen a real improvement in my skin because the ingredients are all-natural. It is 98% organic, vegan, cruelty-free and probiotic. All the ingredients are pure, so, for example, if it contains argan oil it is pure. The world sells 1.5 times more argan oil than it produces, which means it is often watered down with other oils, so it is not pure. Natural oils are better because they soak into your skin due to the oil that you already have in your skin. If you use chemical products, they will clog up the skin.
"We wanted to go with Marina Miracle because we had a great opportunity to have the exclusive rights to sell their products in the Netherlands, and if we plan in the future to have multiple brands, including this, it's a great way to start to get to know the market and build up our customer-base."
How does she like life in the Netherlands?
"I like it a lot. If you think about it, it's not that much of a difference from life in Norway in terms of culture. It's just the language. I can understand it fully, and I can speak it if I have to, but now that I have a company here I will have to master it!"
The products contain some exotic ingredients like argan oil, but also Norwegian ingredients like the Arctic blueberry, algae and nettle. But is there a gap in the Dutch beauty market for this kind of product?
"Yes, we contacted a few bloggers and everyone has been really enthusiastic. These are the first Norwegian beauty products on the Dutch market."
Are Norwegian women known for good skin? I thought the Koreans had cornered the market!
"Yes, Norwegian people have nice skin. I guess because of the pure air and the Norwegian ingredients. We're all about natural and pure ingredients. Traditionally, Dutch women are more minimalistic, but the beauty market is definitely growing here. For make-up to look good, you need a good skin-care routine."
What is the one product women should not do without in their beauty regime?
"A good cleanser – like our Sweet & Creamy Oil Cleanser. It takes off make-up and pollution while keeping the skin intensely moisturised."
What is a product you consider unnecessary in the beauty world?
"I don't use toner. I think it strips the skin of its natural oils. Especially toners which contain alcohol."
WUP 18/5/2018
by Anesca Smith
©WUAS Press