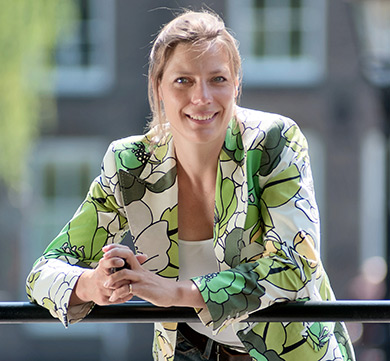 Struggling to find an internship? Meet WUAS's new Work Placement Coordinator, Adrianne Jonquiere-Breure. While in the past students failing to find a suitable internship were often assisted by their tutors, the function has now become more centralised.
With some exceptions, Wittenborg's Bachelor Degree Programmes generally require students to do an internship in the 3rd year of their studies. Students doing a Bachelor in Hospitality Management (BHM) programme have to do an extra 12-week work placement period, the so-called in-company training, on top of the normal internship of around 5 months.
The goal of the internship is to allow students to apply and supplement the knowledge they have acquired during their academic training, so that students can learn skills that will prepare them for their professional activities, make them more employable, and promote their entrepreneurial abilities. "Students at Wittenborg come from a diverse range of cultures and nationalities so they are often not familiar with the Dutch way of working," says Jonquiere-Breure.
What is a unique feature of Dutch companies?
"Dutch companies, just like Dutch society, are very egalitarian. You are selected on your abilities, your CV, your motivational letter and not who you know or who your parents are. You have to do it all by yourself and really stand out from the crowd. A lot of students write very general letters of application and send in general CVs while in fact you should research the company you apply for to know what they want and so you can explain why you are an asset to them.
"It is not uncommon for companies to get 50 applications or more for the same job. Right now it is an employer's market and ultimately they have the last say."
According to Jonquiere-Breure the ability to speak some Dutch is also an advantage. "Especially if you are looking for a job in Marketing & Communication. Also, if you plan to look for a job in Holland after graduation, it becomes even more important to learn to speak Dutch."
What additional support can students expect?
One of Jonquiere-Breure's tasks is to compile and expand the database of companies Wittenborg collaborates with and or have agreements with. "In other words, companies we know will be receptive in helping students to get an internship. The agreement also stipulates that companies at least read through a Wittenborg student job application - even if at first glance it does not look good. If they reject the application we would also like feedback on what went wrong. We often have companies approaching us to offer jobs, which tells me that people are interested in Wittenborg students."
However, she warns that it is ultimately still up to the student to secure the job. "First of course, you have to complete the Work Placement Preparation Module. As work placement coordinator I will help you, but not arrange a job for you because it's part of the learning process – you need to learn how to apply for a job. Of course, if you continually receive letters of rejection, I will help you figure out where the problem is and if someone is in trouble I will also help them.
"That being said, I strongly advise students whose applications are rejected to pick up the phone and call the company for feedback on what the problem was with their application. You will probably learn something from it."
Right now Jonquiere-Breure is in the process of compiling a work-flow process so that all stakeholders, including staff and students, have a clear idea of what they can expect and how it will work. In the meantime she is also working on a database of companies and forging relationships with them. She can be contacted at adrianne@wittenborg.eu
Adrianne Jonquiere-Breure holds an MSc degree in Real Estate & Housing from Delft University of Technology. She is the founder of JAAN! a project and process management consultancy she started in 2008, which combines concept development with the circular economy, creating a new way of looking at how you make and use products with the idea of repurposing them instead of putting them to waste. She is Dutch but was born in Indonesia and likes travelling – especially the adventurous kind like skiing and hiking.
WUP 24/02/2016
by Anesca Smith