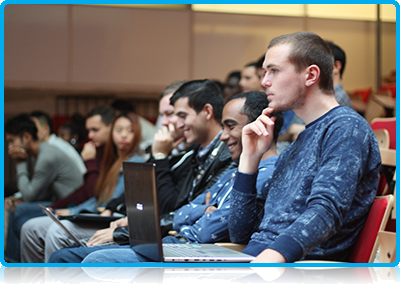 For international students wishing to make a career in The Netherlands after completing their studies here, some of the mysteries of the Dutch labour market has now been unraveled.
The Netherlands Organization for International Cooperation in Higher Education (Nuffic) has made extensive, new information available about work opportunities for internationals in the Netherlands on the website www.careerinholland.nl .
The portal provides new information on the key sectors, occupations in demand and the type of companies most likely to employ foreign workers. These include SME's, multinationals, academia, government and NGO's working in developing countries.
At WUAS IBA students are prepared for the job market by doing a work placement at a company in the Netherlands as part of their final-phase studies.
Nuffic said on its website that apart from sector and regional differences, career opportunities in the Netherlands also vary depending on the type of company you are employed in.
"Due to the high levels of education, technology and entrepreneurship, the Dutch knowledge-driven economy has a great demand for highly skilled young professionals. Globally, the Netherlands ranks 4th in the World Bank's Knowledge Economic Index. Research shows that foreign knowledge workers are concentrated in big urban agglomerations and are more likely to work in foreign or internationally based firms."
Prospective and current students can also do an online test to determine how ready they are for a career in The Netherlands.
The key sectors in the Dutch labor market are:
Creative industries
Logistics
Chemical industry
Energy
Agriculture and Food
Life Science and Health
High tech systems and materials
Horticulture
Water
Nuffic concluded that on the whole the Netherlands is an attractive place to work, considering the relatively high wages and pleasant working conditions. Nuffic expanded and updated the information on these topics to convince more international students to consider a career in Holland, after their Study in Holland!
Source: www.nuffic.nl
WUP7/1/2015