Staff Capacity Also Boosted
New students from 24 different countries joined the Wittenborg family this week. The new arrivals participated in various activities at its Apeldoorn, Amsterdam and Vienna campuses in preparation for the new academic year, which officially starts on Monday 3 September with the first classes.
Around 100 new students are expected to start this semester, surpassing last year's number by about 30%. However, they will not be the only new kids on the block – several new faculty members also joined WUAS for the first time this autumn semester – considerably boosting the institution's staffing capacity.
Introduction Week officially kicked off on Wednesday, with a packed orientation schedule ahead until Friday. New students joined staff members for an informal lunch on Thursday. The new students are from the Netherlands, Vietnam, the US, Egypt, Cameroon, Bolivia, India, Canada, Bangladesh, Iran, Austria, China, Syria, Sri Lanka, South Korea, Nigeria, Indonesia, Russia, Ukraine, the Democratic Republic of Congo, Zimbabwe, Turkey, Morocco and Nepal.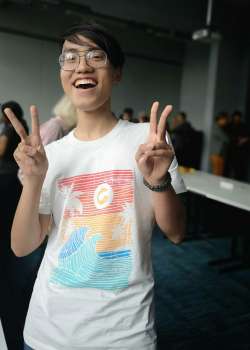 "I did not speak for a month when I came here!"
Vietnamese student, Hai Long Pham, has been living in the Netherlands for about a year before starting his studies at Wittenborg. "I was very nervous when I first came here – I did not speak for a month! I was also not very confident in my English language abilities, but everyone here is so friendly and welcoming and that drew me out of my shell. I chose to study in the Netherlands because of the people, the cheese, the tolerant attitude of Dutch society and the relatively affordable fees compared to the US and UK." He plans to do an IBA in Hospitality Management.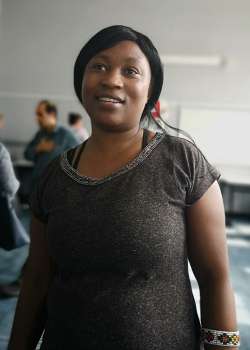 Swedish national Lora Sinyangwe, who was born in the Democratic Republic of Congo, came to Wittenborg because she could not find the study programme she wanted to follow, an IBA in Logistics and International Trade, in Sweden. "My husband and two boys are in Sweden, so I will do a lot of traveling between the two countries." Before settling in Sweden she worked in Zimbabwe's tourism industry and says she always loved studying.
Word-of-mouth marketing
Wittenborg's admissions team worked at full strength throughout the summer holiday dealing with applications of students wishing to start in September. Admissions officer, Yanti Setiawan, ascribed part of the growth to "a lot of word-of-mouth" marketing by students who have studied and had good experiences at Wittenborg.
Support staff also worked tirelessly to prepare for the larger group of incoming students and returning students. Improving student experience will be a top priority in the coming year, Wittenborg's chair of the executive board, Peter Birdsall, said earlier this week at a staff meeting, with priority measures such as maintaining small class sizes, upping academic support for students and creating true value for money.
WUP 2/9/2018
by Anesca Smith
©WUAS Press