Netherlands is Top European Country for English-Taught Programmes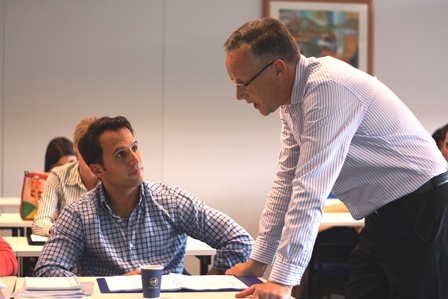 The Netherlands has the highest number of English-Taught Programmes in all of continental Europe.
This came to light in a recent study published by the Academic Cooperation Association (ACA) which collected survey data from European education institutions to examine their use of programmes taught in English as a tool to increase student mobility. The study was done in cooperation with the Gesellschaft für Empirische Studien (GES) and StudyPortals BV between October 2013 and November 2014.
It shows that the number of English-taught bachelor and master programmes (ETP's) in non-English-speaking European countries has more than tripled over the last seven years. From 725 in the year 2001 to 2 389 in 2007, and finally 8 089 in 2014.
In absolute terms, the Netherlands has the most ETP's with 1 078, followed by Germany with 1 030, and Sweden with 822. Germany has the largest number of institutions offering such programmes, at 154, followed by France with 113, and Poland at 59.
In the Netherlands 42% of the programme respondents to the survey also said it was mandatory for academic staff to improve their English.
WUAS, one of the most international institutes of higher education in the Netherlands, offers all of its Bachelor programmes in International Business Administration (IBA) in English as well as its Master of Science degree programmes and its new Master of Business Administration (MBA) programme.
The effects of introducing ETP's was mostly reported as positive by respondents, including:
An improved international profile/awareness of the institutions (84%)
The strengthening of cooperation with foreign partner universities/institutions (81%)
The improvement of assistance/guidance/advice for foreign students (71%)
Furthermore, as a result of ETPs, 56% of respondents declared to attribute higher importance to marketing and promotion in general, as well as to the 'targeted recruitment of students' in particular (54%).
In the Netherlands 51% of the students enrolled in ETP's were domestic students, 26% were from outside Europe, 21% were from the EU or EFTA countries and 2% from other European countries.
The ACA study commented that in terms of student mix, on the European average about 54% of all students enrolled in ETP's are foreign students. The most important criteria for selecting students for both Bachelor and Master ETP's are the academic and intellectual potential of the applicants (92% of the programmes apply these selection criteria) and the proficiency in English (88%). Following that, personality, social and cultural competences are more often a selection criterion for Bachelor programmes whereas practical experience plays a more important role in Master programmes.
More specifically, the requirement of an English test is most frequent in the Nordic countries (85%) and Central West Europe (80%), whereas only 41% of institutions in the Baltics have this requirement in place.
The study highlights the fact that while traditional ETP leaders in Central West Europe and Nordic countries continue to consolidate their positions, new players from Central East Europe and, in particular, the Baltic States are catching up fast. This includes countries like Poland, Lithuania and Estonia.
The study also delves into why some institutions decide not to offer ETP's. These reasons are mostly concerned with the lack of language proficiency of the staff, lack of confidence that the programme will meet any demands from students and the lack of funding in general and of human resources in particular. Some institutions also consider it "unnecessary" to offer ETP's as they are confident they can attract foreign students for study in the domestic language. This was stated more frequently by respondents from widely spoken language communities such as German, French and Spanish. In some countries external constraints – of a legal or regulatory sort – hinder the spread of ETP's.
On the other hand, the reasons for introducing and running ETP's also differs substantially in different parts of Europe. Researchers found that institutions from South European countries most often stated the improvement of international competences of domestic students as one of their major goal in offering ETP's. In the Baltic States, South Eastern Europe and Central Eastern Europe motives more often includes improving the income base of the institution through tuition fees gathered from foreign students and for counterbalancing the lack of enrolment of domestic students.
Relating to the English skills of academic staff, about half of the Master programmes and 70% of Bachelor programmes that responded to the survey reported that English proficiency is an important selection criterion for the recruitment of new academic staff. Denmark, Turkey and Belgium are the countries where two thirds of ETPs reported that English is a selection criterion for new staff recruitment. On the contrary, mandatory English courses for academic staff are rather rare (19% for Bachelor and 11% for Master programmes). However, there are country differences. In Belgium and the Netherlands, 59% and 42% of all the programme respondents reported that it is mandatory for academic staff to improve their English.
The large majority of Programme Directors rated the proficiency in English of students enrolled in their ETPs as good or very good. The competences of domestic students were however more positively assessed than that of foreign students, at 80% with a good or very good command of English compared to 73%. The only exceptions are Spain, France, Italy and Turkey, where the proficiency of foreign students was rated higher than that of the domestic students.
The English proficiency of students also differs by subject area and study level. Students in social sciences, business and law, both foreign and domestic, were reported to be better prepared to learn in English than those in engineering, manufacturing and construction as well as in sciences. By level of study, both the English proficiency of Master-level foreign students (75%) compared to 64%) and of domestic students (81% compared to 78%) was reported to be higher than those in Bachelor programmes.
The full report can be accessed here.
WUP 18/6/2015
by Anesca Smith