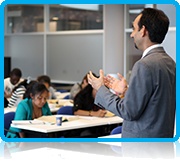 As of this summer the Netherlands Education Support Offices (Neso's) in Thailand and South-Korea will conduct its activities from the embassy buildings in Bangkok and Seoul.
Due to budgetary cuts Nuffic announced last year it intends to close its Neso's in Thailand, Vietnam and Tapei while the ones in South Korea and Mexico would be transformed to Neso-desks housed at the Dutch embassies in the respective countries. Nuffic gave the assurance that the Neso-representatives will continue to work independently from the embassies.
The Neso's promote education by helping Dutch students who want to study abroad but, more importantly, assisting foreign students who plan on studying in the Netherlands. The slashed budget, effective from 1 January 2015, amounts to 1,9 million euros.
In Seoul two Neso-officials will continue promote Dutch higher eduction in South Korea while Thailand will from now only have one representative. All three will work closely with the Nuffic Neso office in Indonesia which will fulfill a regional function in Southeast Asia.
Contact details
In South Korea the education promotion officer is Jung Hee Jung and the recently appointed chief representative officer, Leo Chung. For Neso in Thailand Agnes Niehof has been appointed as the chief representative officer.
The new address for the Neso in South Korea as of 15 July 2014 is:
Nuffic Neso Korea
10th Floor Jeongdong Building, 21-15 Jeongdong-gil, Jung-gu
Seoul (100-784) Republic of Korea
T: +82-2-735-7671 F: +82-2-735-7675
The new address for the Neso in Thailand as of 1 August 2014 is
Nuffic Neso Thailand
15 Soi Ton Son Lumphini, Pathumwan Bangkok 10330
Thailand
Tel: +66 (0)2-252 6088 Fax: +66 (0)2-252 6033
The Neso in Vietnam is already operating from the Dutch consulate building in Hoi
Chi Minh City.
The new office in Vietnam is located at the following address:
Nuffic Neso Vietnam
Saigon Tower, Suite 901
29 Le Duane Boulevard, District 1
Ho Chi Minh City, Vietnam
All the offices in the BRIC-countries (Brazil, Russia, India and China) are set to be retained. NUFFIC is also considering representation in South Africa and Turkey, though not immediately.
WUP 31/7/2014