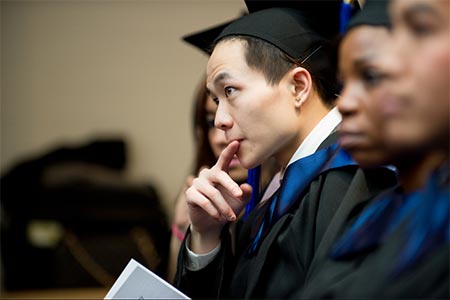 For Dutch universities of applied sciences wishing to attract Chinese students it is key to form long-term relationships with Chinese institutes of higher education.
This is the advice from Charles Hoedt, director of the Netherlands Education Support Office (Neso) in China, who recently met with Wittenborg directors Peter Birdsall and Maggie Feng in Beijing.
Hoedt was commenting on current trends in the Chinese education market, noting that forming partnerships in China was obviously not a problem for Wittenborg, who recently made agreements with no less than 5 institutes of higher education in China during a trade mission.
"In general, it is harder for universities of applied sciences (HBO) to attract Chinese students than for research universities. The recruitment market in China has changed, especially for bachelor's students, and the competition is fierce," Hoedt said.
"The HBO-level institutions that do well in China are usually the ones with a solid long-term China strategy and/or a full-time representative in China. Institutes of higher education can build a name by initiating partnerships or exchange programmes, awarding scholarships, establishing a solid alumni strategy, and collaborating with local agents and representatives. Local presence as well as long-term relationships with Chinese counterparts are key to attracting Chinese students.
"As Neso China is responsible for the generic promotion of Dutch education, we put a lot of effort in the general HBO-level education. We explain the Dutch binary system as part of promotion activities and try to increase awareness of about the global recognition of the high quality of Dutch UAS. Additionally, we have hosted an information session in collaboration with the Dutch Embassy to pinpoint the challenges that HBO-level education faces in China."
Nonetheless, according to Hoedt, prospects for universities of applied sciences seem to be brightening. "There is a general trend in China towards HBO-level education due to the demand for applied research and skilled workers. In practice this means that the Chinese government stimulates and funds Chinese HBO-level institutes. China wants to be the biggest global hub for international students by 2020. The funds that the government spends on the internationalization of HBO-level institutes imply numerous opportunities for knowledge exchange, teacher and student exchange programs and partnerships which can lead to more awareness about Dutch universities of applied sciences, and eventually more international students."
WUP 11/5/2017
by Anesca Smith
©WUAS Press