Millions Set to Get Vaccinated in the Netherlands in Coming Months, including International Students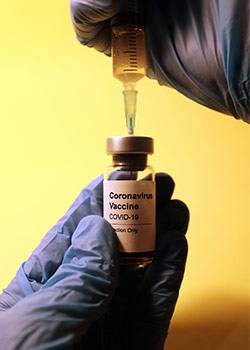 As the Netherlands Start Vaccinating, What does that Mean for Education at Wittenborg?
Now that the Netherlands has started its vaccination programme, what does that mean for education at WUAS in the coming weeks and in the long-term? A recent survey among students and staff has shown that the majority of them are in favour of taking the vaccine.
Top class healthcare system in the Netherlands
The Dutch government rolled out its COVID-19 vaccination programme on Wednesday with millions set to get the jab in the next few months. The Netherlands is known for its excellent health care system, consistently ranked highly in Europe (2nd behind Switzerland in 2018), and the government has been meticulous in first setting up a proper roadmap and getting infrastructure in place before embarking on vaccination – even though it meant being the last country in the EU to start. Experts have been quick to point out that its not about how quickly the vaccination programme is started, but how effective and efficient it is.
When will I get my Vaccine?
The first vaccines are being distributed to frontline healthcare workers and those at most risk from a Covid-19 infection. So when will 'ordinary people' get vaccinated? The government is optimistic that those who don't fall in a vulnerable category will get their turn by early Spring – that is to say, in the second quarter of the year. All international students at WUAS have full Dutch health insurance and will also receive the vaccine as residents. All healthcare in the Netherlands is affordable and private, and Wittenborg arranges healthcare insurance for all its students who require it.
Meanwhile, at WUAS, the past year has seen it switch swiftly and efficiently to online teaching during the first corona wave in March, then to hybrid education at the end of the summer after restrictions were eased. Wittenborg's President, Peter Birdsall, said that although classes are currently offered online again, many students still come to the campus to speak to teachers and use facilities, such as the library.
Students keen to return to class
"In my talks with individual students, it is clear that they are very keen to come back to class. Interestingly, what they don't want, once the spread of COVID-19 has been halted by the vaccine, is a return to a system of compulsory physical attendance for 75% of all classes - that's what we had until the pandemic. We are quite happy with participation in the hybrid and online lessons so are not planning to re-introduce the 'roll-call'. They want the opportunity to return to class, but it shouldn't be compulsory. They still want the option of online learning, so I think some form of hybrid teaching and learning will remain the 'norm'."
"The majority of our students are international, who study abroad and come for the experience, driven by curiosity and a sense of adventure. They want the full Dutch experience. They want to go to class, interact with fellow students and they want to network in the Netherlands and make friends."
For the coming three weeks most students at Wittenborg will be busy preparing for and taking exams and assessments, as well as doing paper re-writes.
A survey which came out this week has shown that most Dutch people (75%) are now in favour of taking the vaccine. Earlier surveys put the willingness to be vaccinated at 66% and 69%. Wittenborg's own survey among students and staff has shown almost 42% will take the vaccine as soon as it becomes available to them and a further 25% will "maybe" take it. About 33% do not want the vaccine, with the majority of those indicating they have worries about possible side-effects.
WUP 9/1/2021
by Anesca Smith
©WUAS Press