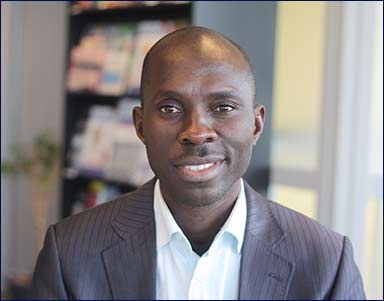 If you are an international student in the Netherlands it pays to immerse yourself in local activities and networks - and we're not just talking about football and pub life!
This was recently demonstrated by Nigerian student, Austine Ijeh who is doing an MBA in Entrepreneurship & Innovation at WUAS from this year.
Austine attended the 2nd Dutch African Table (DAT) event which took place in Apeldoorn recently after responding to a notice sent out by Wittenborg's Front Desk about the event. Now, not only has he been asked to help organize the next DAT event, but he has also connected with a Dutch company Solited International Trading BV that is interested in his expertise and networks in Nigeria. On Wednesday he had a meeting with the management of the company which makes solar energy accessible to people in Africa.
Netherlands is "gateway" to EuropeAustine says one of the main reasons he chose to study in the Netherlands - as opposed to the UK, US or South Africa – is that he sees Holland as a "gateway" to the rest of Europe. "You have access to 26 countries with only one visa! If you study in the UK, you are limited to Britain. In addition, the Netherlands grants you one year to look for a job after attaining your degree and I intend to make full use of that opportunity."
According to Austine, he is always on the lookout for companies who want to do business in Africa and saw just such an opportunity when the notice from the Front Desk landed in his inbox. "When I got to the meeting there were presentations from companies on their business progress in Africa, the challenges they face, how we can be of help to them and there was also the opportunity for us to ask questions, so I was very pleased. Nigeria is a country with 183 million people, so the market is there.
"I believe the extent to where you go depends on who you know, but you have to go out there and expand your network. Especially in a place like Holland – we are strangers here. It's important to make the best of what you have in the environment where you are."
"Wittenborg is the place to be."
He says he chose to study at Wittenborg because of its diversity. "It brings people from different countries together - I read they have a student population of more than 70 different nationalities. I have a global mindset. I looked at Wittenborg as a university that brings people together. So I told myself: This is the place to be."
In Nigeria Austine is the founder of an investment company Austabby Global Services Ltd which advises people on trading. "Coming to the Netherlands gives me the opportunity to look at other markets and connect with people who are interested in investing in Nigeria."
WUP 9/11/2015
by Anesca Smith
©WUAS Press