Visit to Fair Trade Centre an "Eye-Opener" for International Business Students
Master's students of WUAS recently got more acquainted with the concept of fair trade - which has been around since the 1950s - during a visit to the Fair Plaza in Culemborg, near Utrecht. The visit was part of a Project Week assignment which focused on sustainability. Using fair trade enterprises as a case study, the group explored the challenges and opportunities for more sustainable business and trading models.
Wittenborg lecturer, Dr Natalia Leal, who led the group of Master of Business Management students, says: "My goal was to increase students' awareness about the range of options regarding sustainable businesses, in particular fair trade ones. Fair Plaza is, as far as I'm aware, still the largest fair trade wholesale centre in the world - hosting multiple fair trade importers under one roof."
Rwandese student, Remy Rukundo, said he was pleasantly surprised to find some top-quality coffee from her neighbouring country, the Democratic Republic of the Congo, in the product range. "Afterwards, I did a lot of research myself about the subject, how some countries can improve their fair trade practices."
Asian student, Le Phan, said the awareness about fair trade and fair trade products sourced locally is quite low in her own country, Vietnam. "In my opinion, this stems from the fact that the Vietnamese economy is more focused on industry and the service sector in most major cities. Therefore, this course and especially this company visit, opened my eyes about the value of handmade and agricultural products from around the world."
Her perspective was shared by fellow Vietnamese student, Hong Ngoc Bui. "In Vietnam, the notion of fair trade is not really widespread and I have not had many opportunities to learn about it in my country. So, for me, this trip was a very interesting experience.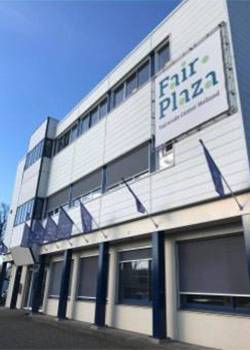 "Fair Plaza is like a supermarket where brands and companies that manufacture and sell fair trade products together display their wares to customers who come to buy in bulk. Customers come from many countries - especially Germany – to select and import these products. The products here are produced and imported from many countries around the world, from Asia to Africa, and Europe. Since they are handmade, each product has its own signature from the country in which it was made. Examples include candles from Thailand, decorative statues from Taiwan, ancient scarves from Nepal, and flower vases from Vietnam."
Jospehine Ali Dauda, from Nigeria, said: "This experience was very enlightening, seeing different companies, as well as different people from different regions, impacting, bringing awareness, and enriching the lives of people in their home countries, and creating products suitable for the European market."
WUP 23/11/2020
by Anesca Smith
©WUAS Press