In a time of economic crisis, HBO Bachelor Graduates are competing for the best jobs, which are few and far between. Whereas 2 years a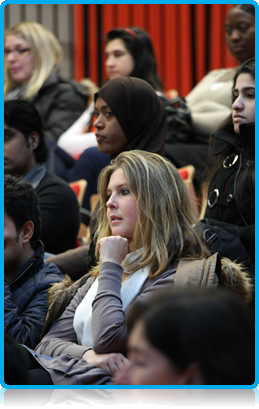 go many Bachelor graduates could expect to roll into jobs in junior management functions with salary levels of 2200 euro a month plus, these days a much lower amount is having to be accepted, as jobs become scarcer and the numbers of students looking for work increases.
Many HBO graduates are looking to continuing their studies with a Master degree, to help increase their profile, experience level and earning potential, essentially delaying the moment at which they enter the employment market. HBO graduates are loking to enter Dutch Master programmes at the traditional Universities, where they often are requested to do a pre-master programme first. Another option is for them to do a Master degree at a British University, either in the UK itself, or at a UK partner in the Netherlands such as Wittenborg.
Currently WUAS sees a developing trend of some of its graduates applying for direct entry into UK Master programmes at the campus of the University of Brighton, in Brighton itself, and students who are choosing to follow a University of Brighton Master degree in Apeldoorn. Also, a number of students who have completed the so-called "Zoekjaar" have applied to return to Wittenborg for studies on the Master in Event Management programme, an international MSc that combines global business, project management and event management.
The Master in Event Management is accessible for all HBO graduates who have completed a Bachelor degree in a related field in economics and management, for instance in project management, event management, hospitality;
Some examples of (4 year HBO) Bachelor programmes in the Netherlands that give direct entry to the MSc International Event Management are:
. International Business Administration (IBA)
. International Business and Management Studies (IBMS)
· Vrijetijdsmanagement (Leasure Management)
· Art and Economics in Event Management
· International Leisure Management
· Media en Entertainment Management
. Communication Studies
. Fashion Business Management (European Fashion Business School, for instance)
· International Event, Music & Entertainment Studies
· Hotel- en Eventmanagement (Tio for example)
· Hotel School (Saxion, Stenden for example)
· Facility Management (Saxion for example)
· Sportmanagement; Sport, Management & Ondernemen; Sport, Gezondheid & Management
· Leisure Studies (Vrijetijdwetenschappen)
Students from around the world with 3 or 4 year Bachelor programmes are eligible f their degree is an economics related one, or if they have at least 5 years working experience in a related industry.
WUP 09/07/2012
©WUAS Press