Many New Students Taking Leap of Faith Despite COVID-19
Wittenborg Executive Optimistic about September Student Intake Numbers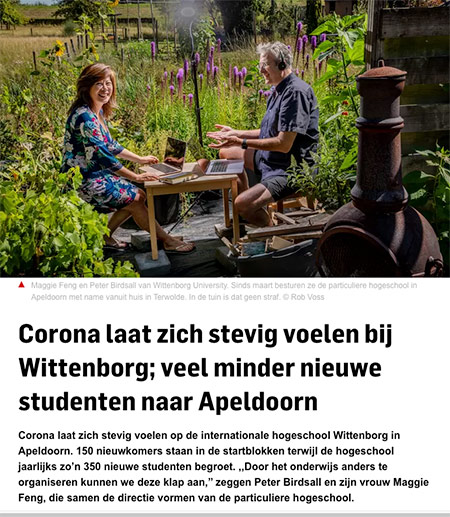 The President of WUAS, Peter Birdsall, says he is optimistic that the institution can attain at least 60% of its usual September intake of new students despite COVID-19. Birdsall made the remarks in an interview with Dutch daily, De Stentor, along with Wittenborg CEO Maggie Feng. Flight restrictions still hamper free travel in many countries and a lot remains uncertain.
While Introduction Week at many Dutch institutions will have to be scaled down, there are no such worries at Wittenborg where a different agenda has always been the norm. International students attend classes and get tours where they are shown the ropes about life in the Netherlands, what is expected academically and practically, the challenges, and getting to meet fellow students and staff.  
For the past few years, student intake numbers have grown continuously and without COVID-19 an estimated 350 new students would have been expected for the start of the 2020/21 academic year. Optimistically, this might have to be adjusted to around 200 (57%) and is currently standing at about 42%.  
Still, the management of Wittenborg is not panicking. Instead, education will be "re-organised", Feng told the newspaper. "We are going back to basics. As we have fewer students, we can really focus on the quality of education and the students who are here. For example, the past few years we would give room for lecturers to do research and often make use of part-time lecturers. For the rest of the year we will not be doing that. We will, however, continue to invest in education."
Another investment is in hybrid education where students can follow lessons online, but also in class or a combination of the two. Students will thus not be bound by the usual 75% class attendance obligation. "Together, at a distance behind the laptop," Birdsall said, "our students have proved they are disciplined and we know for sure they will be able to manage."
Both Birdsall and Feng say they admire the students who continue with their studies in the Netherlands despite COVID-19. "Especially since each country has its own rules and regulations around COVID-19. It's our responsibility to ensure trust with parents and students in coming to the Netherlands to study. We try to reassure them that health care in the Netherlands is of a high standard."
WUP 11/8/2020
by James Wittenborg
©WUAS Press