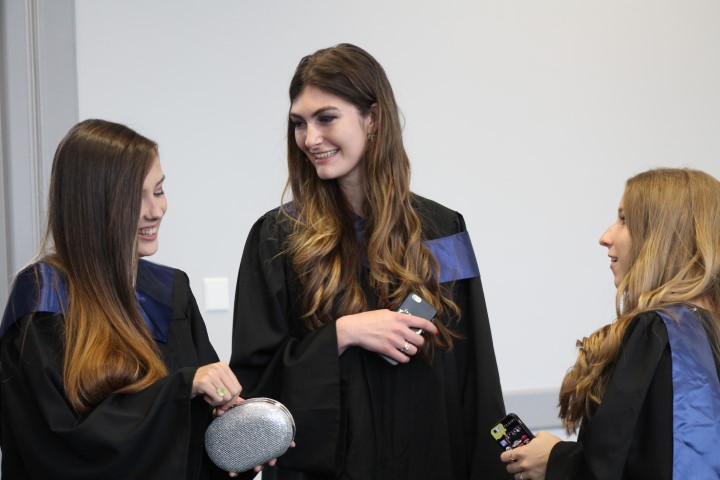 Students from 13 different countries are graduating this summer from WUAS, accentuating its status it as one of the most international universities in the Netherlands.
They were celebrated today at the university's 2016 Summer Graduation Ceremony, held at the City Hall in Apeldoorn, supported by friends, family, tutors and fellow students.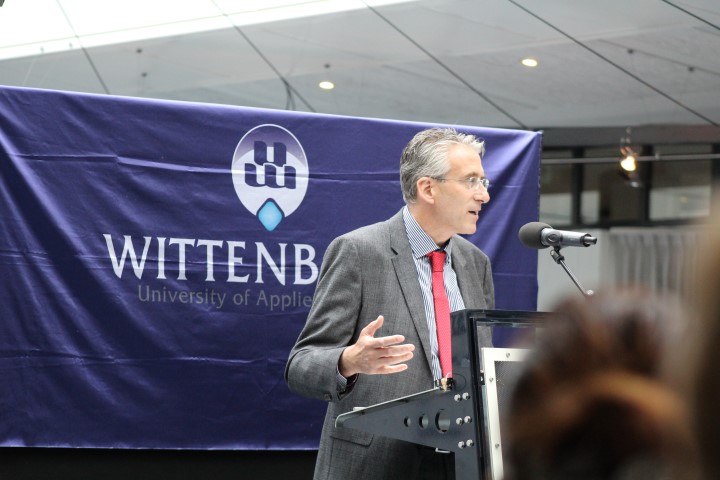 Of the 21 students who graduated there are 4 Master of Science students and 17 Bachelor students. They come from the Netherlands, Pakistan, Kenya, Indonesia, Nepal, Nigeria, Russia, Spain, Brazil, the Ukraine, Korea, China and Columbia.
As they transitioned from student to graduate, Wittenborg's Chair of the Executive Board, Peter Birdsall, drew attention to the value of their new role as Wittenborg Alumni.
"It feels like only yesterday you started your degree programme at Wittenborg, now you've reached the stage where you're finished and are receiving your degree and for that we are are proud of you. We hope that you will go forth and also be proud to have studied at Wittenborg, and proud to be an alumni of Wittenborg.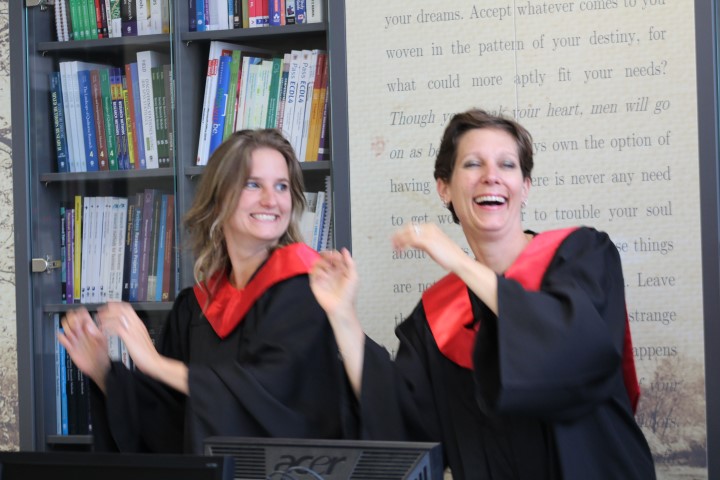 "It is our duty to take care of the brand Wittenborg and to keep growing its reputation and its international outlook. As we grow our brand and reputation this will also affect your CV as your degree becomes more valuable. We pledge to safeguard this brand, and make Wittenborg even more international, even broader in its approach to education to the diversity of its students and staff to its international reputation, and its place in Dutch higher education."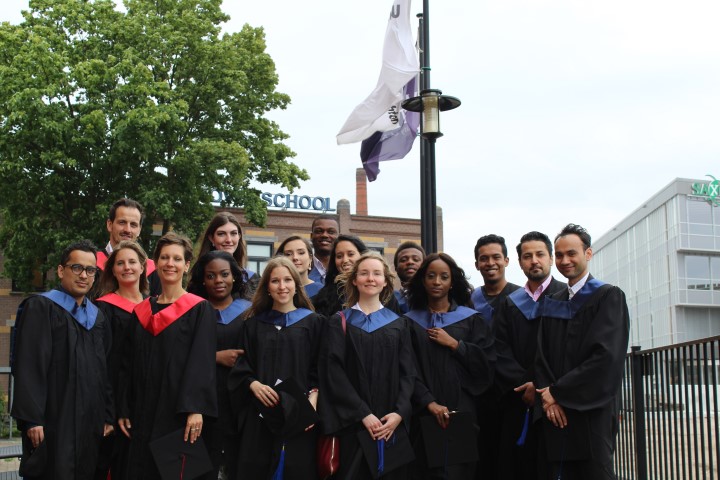 Birdsall said graduation is one of the milestone moments in a student's life. "Not only is it a milestone but it is also a stepping stone, a ladder, a vehicle to move forward. Your Wittenborg degree, whether it be a Bachelors, a Masters or either of these as a joint degree with University of Brighton, will help you reach your goals, it will help take you to the next step, it will help you carve out your new career as somebody who has taken the next step, somebody who has stepped up another rung on the ladder.
"We must not forget that although studying a degree at a University of applied sciences like Wittenborg seems a normal thing to do - there are many people in this world who do not have that opportunity so we must be proud of the fact that we do have that opportunity. Wittenborg will continue to strive widen its range and ability to provide professional degrees to people from all corners of the world and from different areas of society, and for this we will be forever thankful to the support from our alumni."
Students were also congratulated by the guest speaker, Alderman Mark Sandmann, on behalf of the city of Apeldoorn. "Now that you are reaping the fruit of your investment I am sure all the late nights of studying only feel like a distant memory.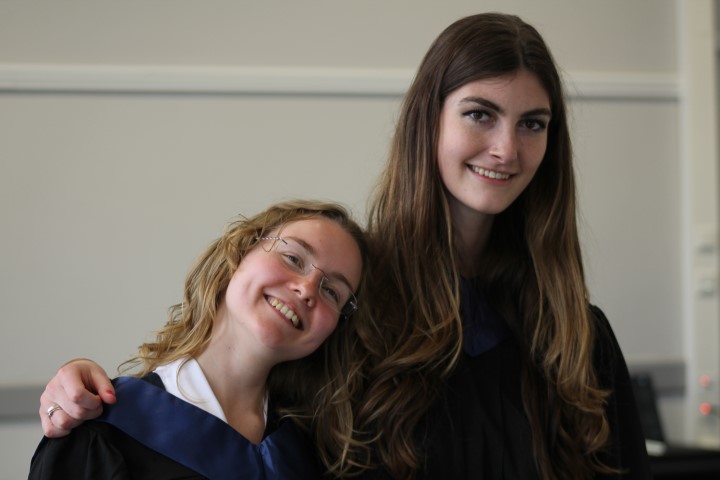 "At Wittenborg you have not only learned academic skills. You have also learned the courage to stand up in front of a room full of people and make a presentation. You have learned to speak to the stranger next to you from China, from Nigeria, from Russia. You have learned to work together in a group and you have learned the dedication to motivate yourself to study for each exam. You have discovered how strong you really are.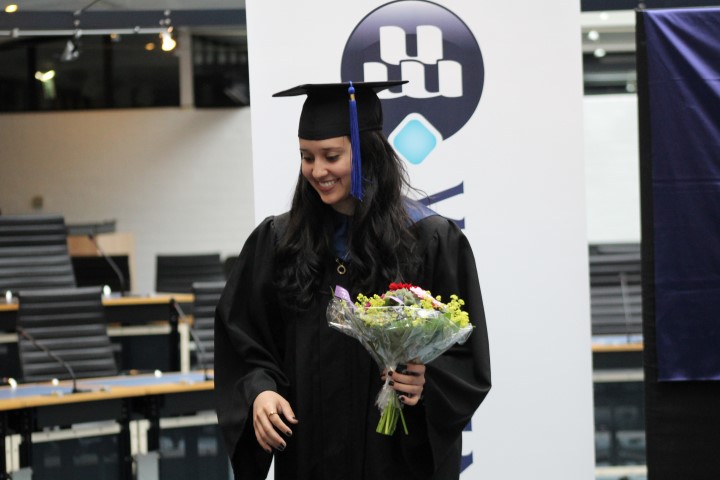 "We at the government of Apeldoorn are proud and excited about having a growing contingent of International students and staff from Wittenborg in our midst, enriching life in Apeldoorn with their different cultures. For those who are spreading their wings or going back to your own countries, we hope you had a pleasant experience in our city and will go from here as ambassadors for Wittenborg and Apeldoorn.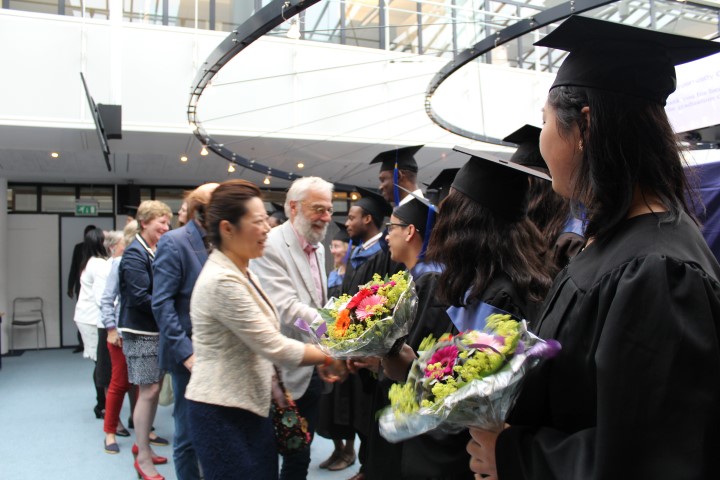 "A good relationship between a town and its educational institutes is often taken for granted, but that is what we have established with WUAS over the years. Beyond its face as the green heart and one of the best Sport Cities of the Netherlands, Apeldoorn has the ambition to develop and encourage innovation and entrepreneurship."
WUP 9/7/2016
by Anesca Smith