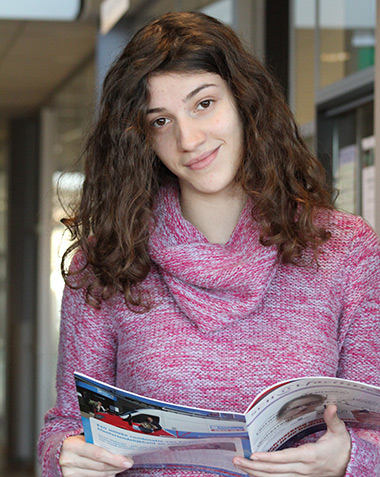 WUAS attracts students from all over the world. The university's only Albanian student, Gertnisa Ristani, was interviewed about life in the Netherlands and what the Dutch government can do to give international students an even better experience.
Which programme are you following?
I am doing a EuroBA (a unique hospitality management programme, which allows students to study in at least 3 different countries).
Why did you decide to study in the Netherlands?
I wanted to study in western Europe and the Netherlands looked like a good place with warm, friendly people. I also considered England, France and Germany but found their entry requirements for students outside the EU too strict. Here I only waited a week for my study visa.
Why did you choose Wittenborg?
The admissions team was super helpful. I spoke to them on the phone before I came and they were very friendly.
Did you have trouble finding accommodation?
No, I stay in Wittenborg's Spacebox accommodation.
What has your experience of the Netherlands been so far?
I arrived in October 2015 and so far have enjoyed life here. Although being the only Albanian student is a bit difficult, I have made new friends.
Where do you plan to do your internship?
I think an internship is an opportunity to explore the world and see other countries. I would love to go to Australia or New Zealand, but I would also like to visit some African countries. I find them beautiful! Especially South Africa. Then there is also the Caribbean and Hawaii – I could go on and on!
What can the Dutch government do to give international students an even better experience?
The Dutch government is doing a great job at making international students feel welcome. However, if I can change one thing I would lower study fees for non-EU students slightly. We do not expect to pay the same fees as Dutch students, but institutional fees for students from outside the EU is still pretty high.
Tell us about career opportunities in Albania.
There are plenty of opportunities for hospitality graduates in Albania. It is a beautiful country with magnificent beaches and enchanting forests. My parents own a telecommunication business. It would be great if I could open a business there, but at the same time the country is very poor.
What are your plans after graduation?
I would like to do a master's degree – perhaps even here at Wittenborg. Eventually I would like to be the CEO of a company.
WUP 08/03/2016
by Anesca Smith
©WUAS Press