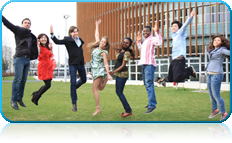 According to a recent survey undertaken by the British Council in more than 80 countries, the UK has come out on-top as the safest place to study, according to students asked. The main reason given for this was that the UK is seen to have a rich multi-cultural society, where students feel safe and accepted, without the risk of being discriminated against, and with more opportunity to find communities of their own origin. Personal safety, 5 years ago at number 17 on the list has remarkably risen straight to number 1 on a student's checklist for where to study, according to the report, Student Insight Hot Topics: The Rise in Global Student Safety Concerns.
Interestingly, at the same time, an Australian report has shown that family ties are also increasingly important in the decision making process for a choice of a students' study destination, both at country level, and at institution level. For instance, if an elder brother has studied at University X in Country Y, the chances that a younger sibling will do the same are almost 40%. A student is also much more likely to chose a particular country to study in if they have a relative living there.
WUAS sees many of its students choosing to study at its campus in Apeldoorn for many of the above mentioned reasons; a truly multi-cultural and English speaking study environment and often family ties with Wittenborg, Apeldoorn, or the Netherlands itself. Quite a number of students have Uncles of Aunts living in Holland, or Germany and Belgium, which are close by.

According to Wittenborg's Student Registrar, Mr Santosh Aryal "Although many Dutch higher education institutions have international students, a true multi-cultural environment is difficult to achieve if the staff and management are themselves not multi-national and from different cultural backgrounds. In order to achieve the safe environment of a multi-cultural institute, lecturers and students must be drawn from as wide a range of continents and countries as possible, and students and staff should be actively encouraged. Maybe Wittenborg's unique mix of British, Chinese, Dutch and Swiss management accounts for our success so far"
WUP 20/10/12
© WUAS Press
Sources
Times Higher Education
http://www.timeshighereducation.co.uk/
Nuffic Transfermagazine
http://www.transfermagazine.nl/nieuws/achtergrond/buitenlandse-student-vindt-veiligheid-steeds-belangrijker