Wittenborg Dedicated to Housing Every International Student at Apeldoorn Campus
News about foreign students unable to find housing in the Netherlands for months has been a hot topic among universities and students. Some international students who have come here to study found themselves stranded without a place to stay, with student housing in short supply and many Dutch student houses not welcoming them. But at the Wittenborg University of Applied Sciences Apeldoorn campus, every international student is allocated housing for at least the first 4-5 months of their first study year.
Wittenborg realises that for international students, starting a new study programme in a new institution in a new country, though exciting, is never easy and often challenging. That is why it is dedicated to helping this new adventure go as smoothly as possible for international students. Wittenborg Housing together with its housing partner FSG Campus offer students furnished accommodation, all within close proximity to the campus in Apeldoorn. All rooms have basic furniture and high-speed internet and shared common areas, and facilities include furnished kitchen, bathrooms, lounge areas and sports facilities.
For students from non-EU countries, the total package-fee for studying at Wittenborg includes the first 4-5 months of accommodation fee (plus transportation fee to bring them from the airport to the respective campuses). After the first 4-5 months, students are encouraged to find their own accommodation. Many students decide to find apartments together with their newly made friends. For students who prefer to stay on after the first 4-5 months, they can renew their contract up to a maximum of one academic year. This is to ensure that rooms are always made available for newly arriving students.
Wittenborg's Front Office and Facilities Coordinator, Vikram Athavale, said that, up to now, all students who have registered at Wittenborg Apeldoorn have been provided housing. "At Wittenborg, we always do our best to manage the entire check-outs and new arrivals through an efficient system," Athavale said. He added that over the last few months he has received more requests from current students to extend their contracts, which makes it a little more challenging, but nevertheless, no Wittenborg Apeldoorn student has been left 'out in the cold' so far. "By this week, all places were fully booked but we are expecting some rooms to be available in the first week of October," commented Athavale.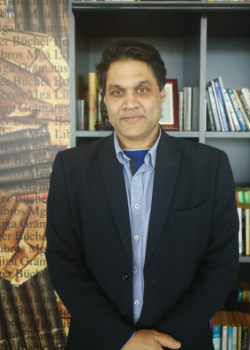 Providing accommodation to students is a responsibility that Wittenborg takes seriously, not only for students in Apeldoorn, but also those at its other campuses in Amsterdam, Bad Voslau (Vienna) and Munich. For more information on Wittenborg Student Housing, go to https://www.wittenborg.eu/student-housing.htm. You can also watch Wittenborg students talk about Student Housing in these videos:
WUP 12/9/2021
by Hanna Abdelwahab
©WUAS Press