As Wittenborg launches its Final Year International Business Administration Bachelor programme in ICT Management, International companies in the Netherlands call for Universities to overhaul their approach to ITC Programmes, that they say fall long short of their needs.
According to a recent article in the Dutch newspaper Trouw, Netherlands multinationals such as Stork and AkzoNobel have signaled their great concern at the ability to fulfill Vicent positions, due to the poorly orientated higher education offered in the ICT departments of Dutch Universities. At present higher education institutes are focussing on the education of computer programmers, whilst companies are crying out for information managers, who can bridge the gap between programmers and sales and marketing departments and the HRM and Research departments.
WUAS pinpointed this issue last year in discussions with the IT companies in Apeldoorn, united in an Organisation called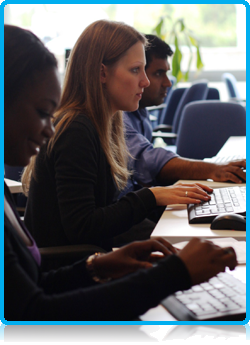 Apeldoorn IT, and is currently working with a group of companies in this sector, including Apeldoorn based HIT International, to offer a specific Final Year IBA in ICT Management from 2013. Wittenborg is also continuing discussions with other Apeldoorn ICT companies such as Be-Informed and Divitel regarding further development of a full programme, at Postgraduate (Master) level, and collaboration in research.
At and international level, Wittenborg has held discussions with IBM regarding the business administration requirements of ICT graduates, and is working with Chinese IT giant Hua Wei in developing a strategic partnership, in the area of ICT branding, marketing and sales pipeline management.
The Bachelor Final Year IBA ICT (top-up year) is open to applicants who have at least reached 2 years higher education ( level 5 ) in an information technology related field.The programme will cover areas such as ICT project management, ICT HRM issues, strategic management in the ICT industry, and research and innovation in ICT.
For more information on this Programme, please contact Marja Bazuin at admissions@wittenborg.eu
WUP 1610/12
© WUAS Press
Sources:
http://www.trouw.nl/tr/nl/4556/Onderwijs/article/detail/3331797/2012/10/15/Duizenden-it-banen-in-Nederland-gaan-verloren.dhtml?utm_source=RSSReader&utm_medium=RSS