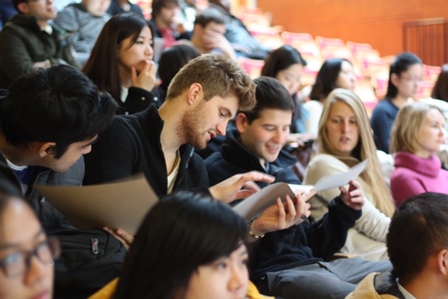 Bachelor programmes in International Business and Administration seem to be the hottest study programmes among prospective students in the Netherlands – IBA programmes have received more online-traffic in the first quarter of 2015 than any other course of study!
This is according to Studiekeuze123, the Dutch foundation which supports prospective students in making the right choices when it comes to their studies. The foundation reported in its March Newsletter that its website received 86 356 visitors in the first months of the year and that International Business and Administration (IBA) received the most clicks.
WUAS offers undergraduate students a uniquely-structured broad Bachelor (IBA) degree, accredited since 2006! IBA – that means, a Bachelor in International Business Administration (IBA) with various pathways such as:
Economics & Management
Marketing & Communication
Hospitality Management
Entrepreneurship & SME Management
Logistics & International Trade
Financial Service Management
Information Management
Wittenborg - a small, private University of Applied Sciences which is one of the most international institutes of higher education in the Netherlands – is situated in Apeldoorn. From September 2015 it will offer its IBA in Entrepreneurship & SME Management in its new Amsterdam location.
Business Administrators are key to all today's successful companies and organization. A fully-trained Business Administrator can be found at the heart of any successful enterprise, whether in the international finance industry, the hospitality and tourism sector or in an international import and export company.
It is estimated that more than half of first-year students regret their initial chosen study path. According to a survey commissioned by the Dutch ministry of Education, Culture and Science (Source: Monitor Beleidsmaatregelen, 2012 ResearchNed) about 8% of students switched studies in the period 2006-2010. A further 14% dropped out in their first year of studies during the same period.
WUAS's IBA Bachelor makes study choice easy for students as by choosing the broad business domain they don't have to choose the definite graduation pathway until the second year, avoiding making a "wrong choice" at the start of their studies. For instance, a student who initially thinks that they would like to follow a Financial Services Management degree pathway can still easily change their choice to Hospitality Management within the IBA, without losing time or having to switch programmes or even institutions.
Students who choose the pathway of Hospitality Management wil also be eligible for a double degree pathway, receiving the UK Bachelor of Arts in International Hospitality management from the University of Brighton.
Students who choose the IBA Entrepreneurship pathway can follow the programme in Amsterdam from the 2015-2016 academic year.
WUAS's IBA programmes are accredited not only by the Dutch NVAO (twice since 2006) but are also accredited by the German, Austrian and Swiss accrediation authority FIBAA. The IBA Hospitality Management is also validated by the Uk University of Brighton (under the Uk system / QAA).
WUP 15/5/2015
by Anesca Smith