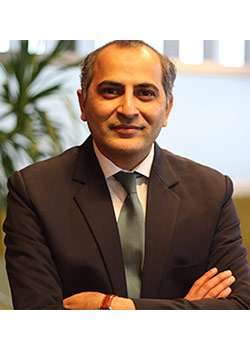 Key Address Identifies Financial Tools to Uplift Poor
The vital impact of the green revolution on the economy was highlighted by Wittenborg lecturer, Dr Muhammad Ashfaq, when he recently participated in the 10th Interdisciplinary Conference "Nature – Human and Culture" organised by the Pedagogical University of Cracow in Crakow, Poland.
The green revolution has increased the productivity of the land and, as productivity increases and technology brings efficiency in sowing and harvesting processes, the income of the farmer rises, Ashfaq argued. "This increase in production and decrease in prices has spillover effects on other sectors of the economy, since many agriculture products are the raw materials for many industries, as cotton and jute are the raw material for the textile industry.
"On the other hand, as the income of a farmer increases, the demand for non-agriculture products also increases. This increasing demand for industrial products persuades industrialists to build new firms to fulfil the demand for non-agriculture products, and it persuades financial institutions to develop financial products according to the requirements of the rural consumer so that financial transactions can take place smoothly and efficiently."
Ashfaq highlighted that such results have clear policy implications, since the adequate and timely inflow of both production and investment credit for the development of the agricultural sector through further reforms goes a long way towards the sustained growth of agriculture and food security.
Ashfaq, whose key address was entitled "Role of Technology for Sustainable Development", also made a few other key points:
That the global economy has witnessed significant changes in the last decade, though, the current transformation process in various sectors of the global economy is unprecedented and exponential
That factors including automation, robotisation, digitisation, etc., are changing the global economic landscape, with implications for a growing population, economy, society, and individuals (new jobs will be created but several jobs are in danger)
That there are financial tools available, such as social finance to raise the living standards of the poor, and policy suggestions to achieve sustainable development goals
Ashfaq shared the application of technology by different governments to address societal issues. At the same conference he presented a paper entitled: "Causal nexus between sustainable economy and agricultural credit: Global evidence".
WUP 5/8/2019
by James Wittenborg
©WUAS Press