With great pride, WUAS sent off its latest group of master's and bachelor's degree graduates at its 2018 Winter Graduation Ceremony on Friday.
"I truly believe that having graduated from Wittenborg – as an international institute – makes you stand out to employers," Wittenborg's chair of the executive board, Peter Birdsall, told the group who were in high spirits. "You took a path not many people have chosen. I want us to make an agreement: you go out and be successful, and we will do everything to improve our service to students. The more successful you are, and the more well-known and diverse we are, the more the value of your degrees will increase."
One MSc student, Brenda Evan Uzoma from Nigeria, said: "I feel like a star today. Thank you Wittenborg for creating a home away from home. When I left Nigeria, everyone was wondering why I wanted to pursue further studies. I was supposed to be comfortable where I was. But now I am more educated than when I left. It was not easy, but I am so happy to be here today."
While some graduates are looking forward to starting their careers, others intend to continue their studies. A few bachelor's graduates also indicated that they would follow a master's degree programme at Wittenborg.
Guest speaker was Alderman Johan Kruithof from the City of Apeldoorn. He urged students to think about how they can make a difference with some of the challenges faced by modern society.
"If 2017 taught us anything, it is the power of social activism. Who was Time Magazine's Person of the Year in 2017? In fact, it was not one person, but a group of women. Those who started the #metoo campaign. A simple hashtag, started by an individual, empowered women from all over the world to speak up. And there are countless other examples of this – how you as an individual, as a networked thinker, can be an agent of change.

"It is a gift to be brave enough to step out of your comfort zone, especially in these times when many people seem to take refuge in nationalism, in the idea of 'them' and 'us'."
Kruithof also thanked students for contributing and enriching the cultural life in Apeldoorn. "We wish you all of the best for your future on behalf of the mayor and the city. Don't forget us!"
In total there were 6 Master of Science graduates – from the Netherlands, Nigeria, China, El Salvador and Indonesia, who will also receive their diplomas at the University of Brighton's graduation ceremony next Friday, in the UK, since Wittenborg's MSc programme is offered jointly with Brighton. There was also one MBA student, Joseph Isiramen from Nigeria, and 10 IBA graduates from China, Rwanda, South Korea, the Congo (DRC), Vietnam, Nepal, Nigeria and the Netherlands.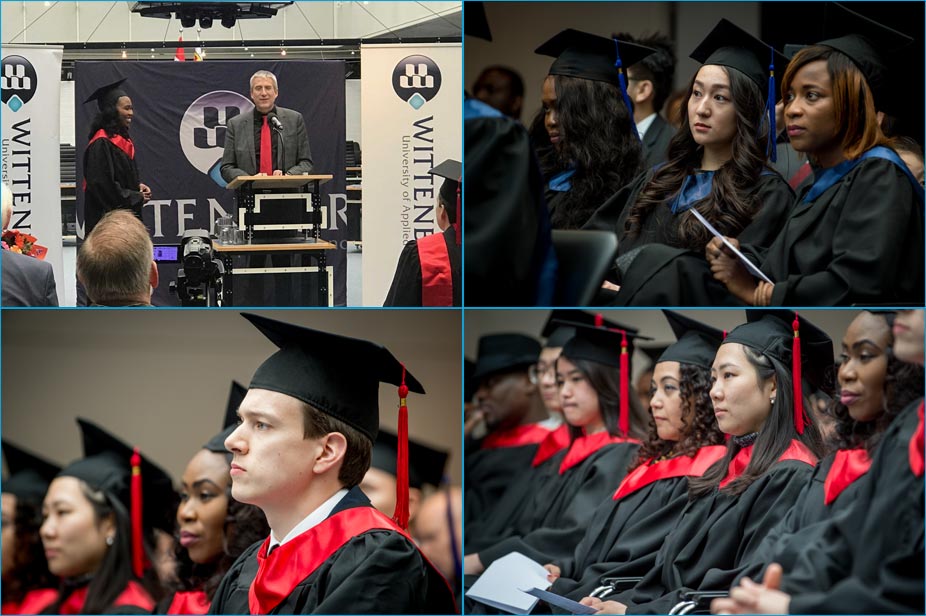 WUP 11/2/2018
by Anesca Smith
©WUAS Press