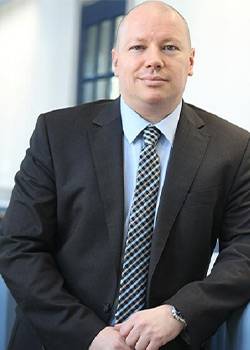 Wittenborg Senior Lecturer Speaks at Finnish 'Turku Sales Week' event
As the COVID-19 pandemic continues to breed uncertainty over consumer sentiment and behaviour, businesses need to find new ways to ensure their own survival. This was the essence of the keynote speech by Wittenborg Senior Lecturer Dr Alexander Bauer at the Finnish Turku Sales Week. The 4-day online event, held on 16-19 November 2020, was organised by Turku Sales Academy, part of the operations of Turku University of Applied Sciences, Finland. During the event, two sales competitions were organised and keynote speakers who are sales experts were invited to take the floor and share the latest trends in sales.
An expert in international sales and marketing
Dr Bauer, who lectures for Wittenborg at its Apeldoorn, Munich and Vienna campuses, is not only a business developer but also a public speaking expert. He has many years of experience in international sales and marketing, which took him to almost all corners of the globe, from Great Britain to Malaysia, and from the Middle East to Central America. With such a diverse international experience and profile in sales, this topic got him the spot as one of the keynote speakers at the Turku Sales Week event.
Using his research entitled 'Lessons learned at Austrian SMEs during the Pandemic – a microeconomic snapshot', Dr Bauer talked about how the research findings revealed that the pandemic has become an activator and accelerator for innovative developments in online sales and delivery services, and how international sales become both a strength and a weakness at the same time. He also reminded the audience that the crisis has revealed the vulnerability of our economy as it leads to dramatic levels of unemployment and bankruptcies. However, it has also opened up new frontiers with entrepreneurs striving to change their business models, reassess retail trade and reengineer their business processes. He emphasised that the role of the state is imperative in extending its assistance to businesses, especially SMEs and certain target industries like tourism.
Human beings hardwired
As the world awaits the uncertain future of what the new year will bring, people are becoming more adept at the new norm of online education and online businesses. For a business school like Wittenborg, keeping up with news about sales, marketing and businesses as a whole, is important for both students and lecturers. With many countries still reeling over the onslaught of the pandemic, it is important to continue learning and seeking knowledge on how best to overcome the crisis and work towards a brighter year.
The future is not bleak, said many experts, as human ingenuities are limitless and they have triumphed over many obstacles before this. As Nigel Nicholson said in the Harvard Business Review article (July-August 1998 magazine), "Homo sapiens emerged on the Savannah Plain some 200,000 years ago, yet according to evolutionary psychology, people today still seek those traits that made survival possible then: an instinct to fight furiously when threatened, for instance, and a drive to trade information and share secrets. Human beings are, in other words, hardwired. You can take the person out of the Stone Age, evolutionary psychologists contend, but you can't take the Stone Age out of the person."
WUP 2/1/2020
by Hanna Abdelwahab
©WUAS Press