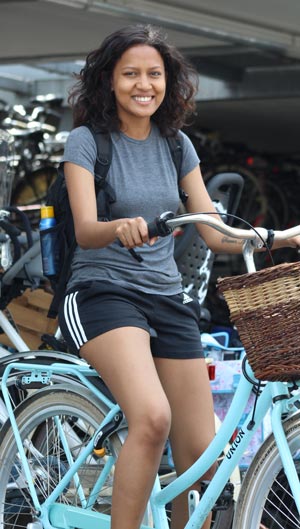 Indonesian student Bertha Tanaem is so enamored by the Netherlands' bicycle culture that she wants to re-introduce it back in Indonesia's logistic industry, starting in her home-town Surabaya, in East-Java.
"Logistics is my passion," says the first-year student who joined WUAS in 2016 following a bachelor's IBA in Logistics and International Trade.
"I was working for my father for 6 years - he is in the freight forwarding business - before setting up for myself and starting a small company of my own, Elimada Global Logistik, with a team of 4 which is based in Surabaya."
Bertha recently worked as a volunteer at the world's largest cycling conference – the 2017 Velo-City conference – which took place in Arnhem and Nijmegen. It was opened by the Dutch monarch, King Willem-Alexander.
"I always had an interest in distribution and the opportunity to attend the Velo-City event as well as my personal observation in the Netherlands about "Fiets-Post" by Post NL, have made me see the concepts of logistics differently.
"Doing deliveries by bike in the Netherlands works because of the country's infrastructure. I would like to reintroduce the cycle culture back in Indonesia starting in Surabaya and hope when I go back to my hometown it will have a proper cycle path so I can implement Fiets-Post in Surabaya."
While volunteering she was particularly touched by two keynote speakers - Manfred Neun from the European Cyclists Federation (EFC) and Julia Nebrija Urban, an urban planner in the Philippines. "Both spoke about 'bike-conomics'. Neun gave a run-down of cost-saving in connecting the suburb to the city using a proper bike-path. Nebrija spoke about her difficulties to change the cycle behaviour in the Philippines and confirmed Neun's statement that "poor mobility is costly".
WUP 30/7/2017
by Anesca Smith
©WUAS Press