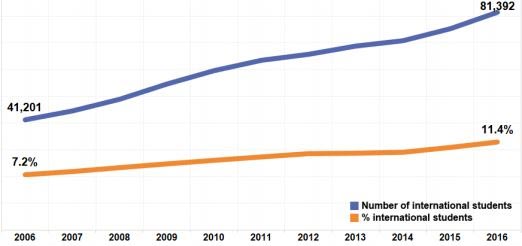 More than 112,000 international students studied in the Netherlands during the 2016-17 academic year – the highest number ever recorded in the country's history. Of these, 72% (81,392) were enrolled for a full Bachelor or Master degree programme.
These figures are contained in the latest report on incoming student mobility from Nuffic, the Dutch agency for internationalisation in higher education. The 81,392 degree students came from 164 different nationalities – they mark both the highest total and the highest absolute annual growth in the number of students (6,163).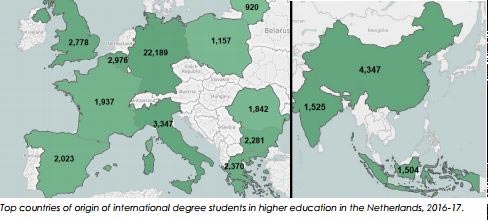 At WUAS, international students make up 89% of the student body.
International degree students are estimated to contribute €1,57 billion annually to the Dutch treasury. Also, they are generally thought to contribute to the Netherlands' knowledge economy through research, innovation and easier transnational cooperation.
The director of Nuffic, Freddy Weima, said that of course it is great when international students contribute to the Dutch treasury, but there are also other reasons why they are important. "International students contribute to the creation of an international classroom, which benefits all students. With the knowledge, experience and networks they bring along from their own countries they strengthen the quality of education in the Netherlands." According to the report, non-EEA students tend to be quite a bit older, with more work experience than their counterparts from the EEA.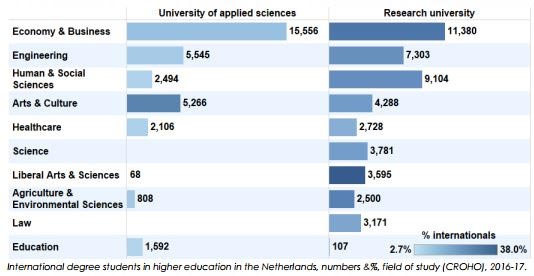 Germany remains the most important country of origin, making up around 27% of all international students in the Netherlands, followed by China (5.3%) and Italy (4.1%), which overtook Belgium now in 4th place with 3.6%. The strongest absolute growth in international enrolments is seen among students from Italy. Students from eastern and southern European countries are considered to be increasingly important.
Economy and Business studies are the most popular among international students studying at Universities of Applied Sciences with 15,500 enrolments – particularly International Business and Management Studies. Also popular is Engineering (over 5,500 enrolments), particularly Information and Communication Technology (ICT).
WUP 04/04/2017
by James Wittenborg
©WUAS Press