Activity Offered to Data Analytics students
To discuss topics such as digital transformation in manufacturing and the acceleration of the Smart Factory innovation, Wittenborg organised an online guest lecture featuring digital business transformation strategy consultant Sohail Sarwar. Coordinated by senior lecturer Muhammad Ashfaq, the activity took place on 29 April and was attended by MBA students specialising in Data Analytics.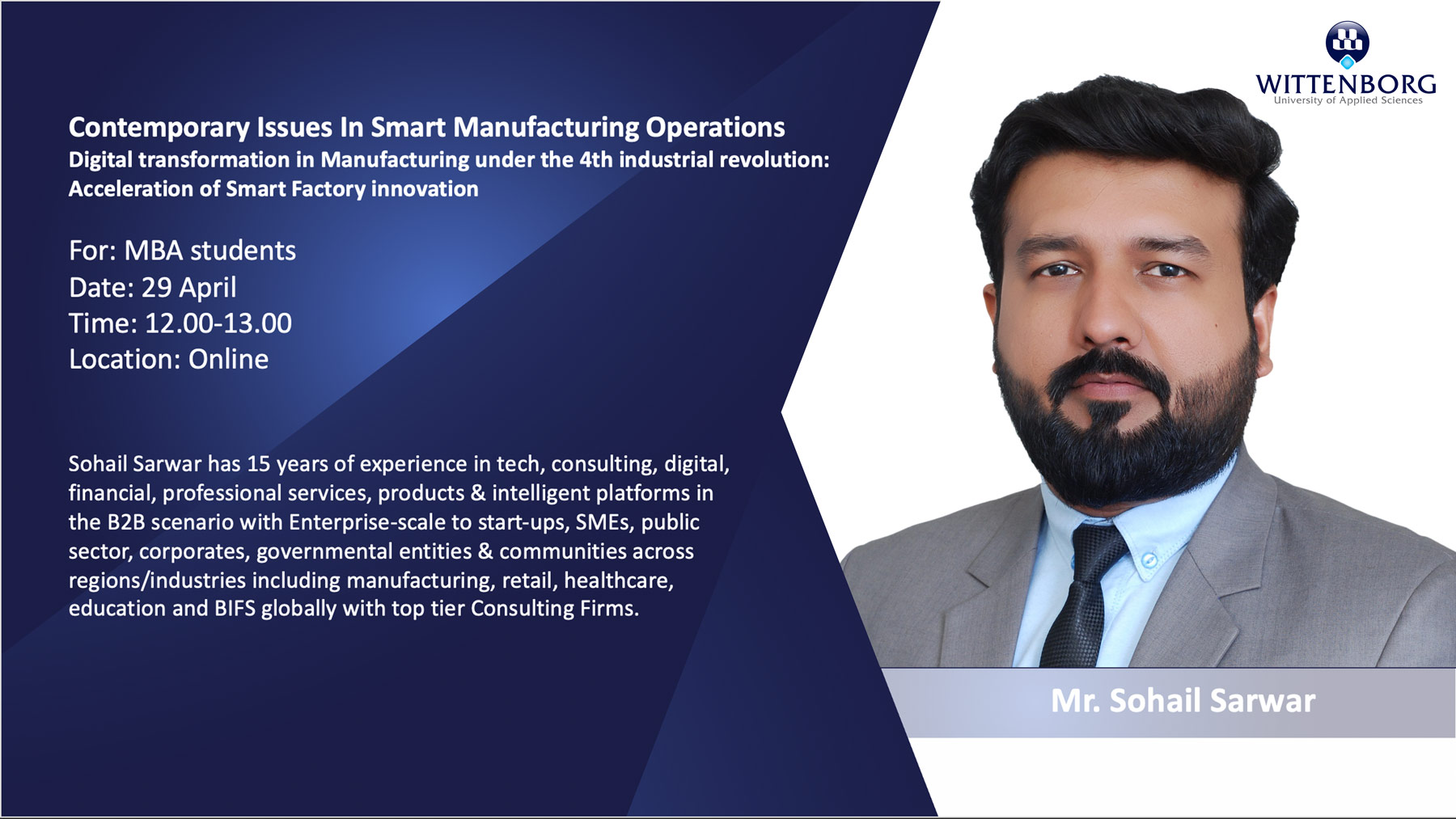 During the session, Sarwar talked about how smart manufacturing is being driven by emerging technologies such as robotic process automation and assembly line automation powered by IoT industrial platforms. He also addressed other related subjects such as the dynamics of a factory environment, the fourth industrial revolution and the rise of smart factories. Additionally, the lecture included case studies and real-life examples derived from the consultant's 15-year experience in the field of digital business transformation.
"One of the key insights I wanted to give to the students is that, in order to become leaders of the digital transformation process, they need to develop their mindset, skillset and toolset. So, I provided them with a 360-degree view of the business and also discussed some of the main platforms used in the industry as well as other concepts that will be important for their professional development," Sarwar stressed.
He added that the lecture was very interactive, with participants often asking questions and making comments. "Our discussion centred on multiple aspects of digital manufacturing and digital transformation, not only regarding private entities but also how governments can adapt to digital transformation, how its economic impacts can be measured and how it can be aligned with the United Nations' Sustainable Development Goals. Some of these topics were not originally in my agenda, but came about because of the insightful questions asked by the students."
In Sarwar's view, students need to qualify continuously in order to be able to answer to the needs of a constantly changing industry. "My goal, with this lecture, was to help enrich the students' experience, by addressing subjects that are aligned with Wittenborg's MBA in Data Analytics. The idea is to prepare these professionals to be competitive in the marketplace, so that they will eventually progress to leadership roles in their careers," he commented.
WUP 22/5/2022
by Ulisses Sawczuk
©WUAS Press