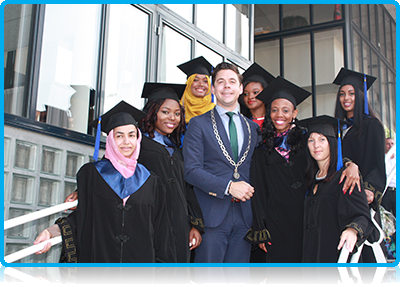 Wittenborg closes academic year with a Graduation Ceremony and a "Meet & Greet – Happy Holidays event", held at the Apeldoorn City Hall. Happy Graduates from Block 7 Graduation were awarded their Bachelor degrees, and 5 students were awarded a Certificate of Achievement after passing the first year of their EuroBA international hospitality management Bachelor.
The ceremony was opened by director Peter Birdsall and this year's speaker was local government alderman Olaf Prinsen, who represented the local City Council and the Mayor.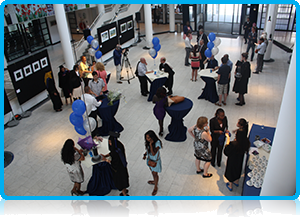 Prinsen commented "The municipality is looking forward to renewing its covenant with Wittenborg in the coming academic year, to ensure a long term partnership between the town and the school, a partnership in which, for instance, we try to solve the (student) housing problem and so to support Wittenborg in its growth ambition"
WUAS has a rolling intake, so students can graduate throughout the year, at six different blocks, and this year there have been various graduation moments during the year, and its tradition to combine the last graduation of the academic year with an end of year event. All of the lucky graduates were girls this year!
The 5 EuroBA students represent 5 different nationalities, Netherlands, Spain, Ukraine, Pakistan and Nigeria, and they have completed the first of a three year European Bachelor of Arts in International Hospitality Management, that will see them study in 4 different countries before returning to Wittenborg to graduate. From September, the five will be studying Year 2 of this programme at Angell Akademie, a hospitality business school located in Freiburg Germany.
After the graduation ceremony was over, representative of the municipality, local companies, organisations and 'friends of Wittenborg' came to the City Hall to join Wittenborg Staff, Graduates and Current Students to hold a 'meet & greet' drink and snack party, as a closing event to the academic year.
At this end of year event, Director Peter Birdsall spoke of the ambitions to develop Wittenborg into 5 schools, with the first two distinct 'faculties' taking shape in the new school year – the School of Business and the School of Hospitality & Tourism, each with its own course leader and distinctive programmes. By the end of the year the School of Arts & Technology will have been launched with new programmes in the field of engineering management and ICT management.
The event was closed by Mr Ruud Dost, Chairman of the University's Advisory Board, who thanked the other members of the Board for their hard work this year in helping to guide Wittenborg's management through the early stages of growth and the development of their ambitions.
"We are happy to say that we are all "on Track". Alike you (Graduates) are "on track" receiving your graduation, the university is "on track" in evolving the university of applied science from the start in Deventer to a university in Apeldoorn that has grown big enough to set controlled steps in realising its strategic ambitions."
WUP 18/7/2014
WUP 20/7/2014
©WUAS Press
by Anesca Smith