Graduation Assignment Topics of WUAS Students Align with UN's Sustainable Development Goals
In line with the adoption of the United Nations' 17 Sustainable Development Goals (SDGs) by Wittenborg University of Applied Sciences, many WUAS students have chosen to do their graduation assignments on topics related to sustainability and environmental issues. Recent graduates Julian de Boer, Iman Janani and Bolun Li have all approached these fields from different angles in their researches. To read more about Wittenborg's inclusion of SDGs in its curriculums, click here.
Conservation efforts by zoos
De Boer, who is originally from Curaçao and studied for a bachelor's in Hospitality Business Administration (HBA), specialising in Hotel & Hospitality Services Management, investigated conservation in zoos and its role in the prevention of wildlife extinction. He says he was attracted by this topic due to his concerns about the impacts of human activity on wildlife, and the desire to understand what can be done to mitigate this process. "As put by Simon Mustoe, if we play God with the existence of species, we are playing a lottery with our own future. In recent years, the bumblebee has become endangered and threatened with extinction. If that happened, not only would we lose a lot of plant species, especially flowers, but bee pollination is also a great contributor to the existence of fruits, which are humanity's third largest food source."
De Boer's main conclusion is that zoos are at the cornerstone of wildlife conservation, and they play a major role in preventing wildlife extinction. "They do this through many different initiatives, such as breeding programmes for endangered species and reintroduction programmes, as well as education and using their revenue to support other wildlife conservation initiatives," he explains.
For the near future, De Boer plans to work in the hospitality sector, but afterwards he would like to contribute to wildlife conservation by working for an existing organisation or starting his own initiative.
Top agribusinesses and CSR
Based on his 12-year experience in the production and distribution of agricultural products and seeds as well as providing services to customers, Iman Janani, from Iran, wrote his MBA thesis on the communication of corporate social responsibility (CSR) activities by agribusinesses.
"This is an extremely relevant topic nowadays and many major events that have been taking place in the world are related to CSR initiatives. The Paris Agreement and the UN Goals for Sustainability, for example, confirm that CSR and sustainability are not limited to a region or a company, they are essential criteria for any business to be successful internationally. Besides that, many stakeholders are concerned about the environmental, social and voluntary roles of businesses," he highlights.
During his research, Janani, who specialised in International Management, conducted a structured observation of the websites of the top 75 agribusinesses in the world, making use of statistical methods to evaluate his findings. Some of his key takeaways are that North and South American companies are at the forefront of communicating their CSR initiatives, and that all major companies in the agriculture sector must strive to improve their efficiency in CSR communication, in order to be aligned with society's expectations.
"Honesty is a key factor in this sector because these businesses are responsible for the food security of the entire world population, and also have a major impact on our natural resources. I strongly recommend that agribusinesses avoid 'green-washing' practices and, instead, invest in voluntary initiatives to attract more loyal customers."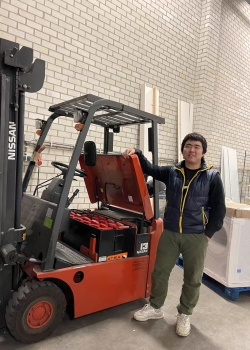 Green logistics initiatives in China
Also focusing on how large businesses approach sustainability issues, Bolun Li, an IBA student from China who specialised in Logistics & International Trade, analysed international green logistics efforts developed by Chinese companies. According to Li, he chose this subject because the international community has become increasingly concerned about environmental protection over recent years, and China is a very large economy and an integral part of the world supply chain.
"I already had some knowledge of this topic because I used to work as a sales assistant for a Chinese company in the Netherlands. Our company was a supplier of printing consumables, so it produced those items in China and shipped them to a warehouse in Amsterdam, from where they were delivered to our customers," he explains.
Through his research, Li has concluded that Chinese logistics companies have difficulties to make significant changes in a short period of time, because this would entail radical alterations in the management and structure of the company. However, many companies are actively seeking change, and these efforts are recognised by their stakeholders and society. "The changes made by Chinese companies are mainly in the area of maritime transport and relate to marine conservation. These companies are actively looking for ways to reduce CO2 emissions, and this is being pushed by the Chinese government, which has proposed the idea of carbon neutrality and hopes to achieve it within the next 20 years. So, it is a series of government policies and international public pressure that are the main drivers for change."
Li says that he will probably go on to postgraduate studies, specialising in supply chain management, because it is an area that has evolved over time and is in constant development, which makes it interesting for him.
WUP 28/12/2021
by Ulisses Sawczuk
©WUAS Press