Graduation Assignment Analyses Female Leadership in South Tyrol's Hotel Industry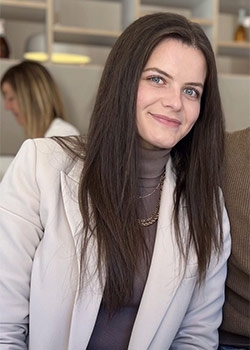 HBA Student Anna Egger Highlights Emancipation of Women from the Region
Being originally from South Tyrol (Italy) and having worked in many hotels where women were in leadership positions, student Anna Egger felt intrigued by this situation. For this reason, she decided to write her graduation assignment on how South Tyrolean women lead the hospitality businesses they are part of. Egger recently completed an HBA degree in Hotel and Hospitality Services Management at Wittenborg's study location at the ITM college in Bad Voslau (Austria).
The student points out that, in general, women still face gender inequalities and do not have the same opportunities to rise to top management positions at the workplace as men. However, she stresses that a positive development can be seen in South Tyrol, where more than 10,000 women-owned businesses were registered at the end of 2020, almost 30% of them being active in the hotel industry.
"In South Tyrol, there is hardly a hotel that is managed without a woman, and female managers have a positive impact on the growth of the hotel industry. These women in leading positions have always inspired me through their passion, ambition and courage. Apart from wanting to learn more about this topic from a scientific point of view, I have set myself the goal to become a female hotel leader and to start my own business one day. So, the study was also intended to serve as a personal source of inspiration for my future career," she says.
Among other objectives, Egger's study was aimed at defining the leadership style and characteristics of female hotel leaders in South Tyrol, analysing the values, philosophy and visions of their hotel businesses, and investigating if these women had experienced any gender barriers during their careers. In order to collect data, the student interviewed eight female owners of hotels in the 4-to-5-star range.
According to the research, female leaders in the South Tyrolean hotel industry have a participative and employee-oriented leadership style, valuing flat hierarchy and humanity. "The data shows that they have strong soft skills, such as empathy and sensitivity. They can put themselves in the position of the employees and show interest in them through appreciation and praise. For this reason, these female leaders are also team-oriented, cooperative and loyal," Egger says.
Moreover, the respondents were asked how their female leadership style and characteristics differ from the male leadership style. In their answers, they described males in leadership positions as more impulsive, tough and risk-taking, as well as colder, more distant and less detail-oriented than women. However, the respondents highlighted that men have specific qualities as leaders, such as being more direct and clear, promoting change by taking risks and embracing innovation, and being more persuasive and assertive.
Egger points out that, to her surprise, the study did not show any significant gender-specific barriers for women in the South Tyrolean hotel industry. "The results indicate that, in the South Tyrolean hotel industry, women are as respected as men. This testifies to the strong emancipation of women in the local hospitality sector, in what is a role model for other industries and countries. However, this conclusion must be viewed critically, because the respondents have a certain stability, since they are their own bosses and not employed hotel managers. Therefore, they can reconcile family and work with more ease than other females in leadership positions."
Regarding her plans for the future, the student says that she would like to gain more experience in management, climb to higher positions and eventually run her own hotel. "In August, I will start working as an assistant executive manager at a hotel where I already worked as a receptionist. I am looking forward to taking on this new challenge, which will help me develop important leadership skills," she says.
WUP 2/8/2022
by Ulisses Sawczuk
©WUAS Press