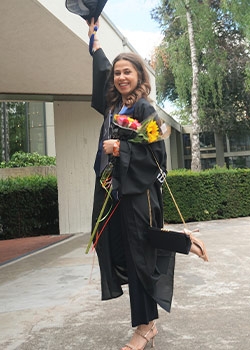 Diversity an Asset to Every Business School
Successful Alumni Allegra Zazzaro says Wittenborg University of Applied Sciences' diverse family of staff and students is what primarily attracted her. "I always wanted to study in an international environment surrounded by different cultures," she says. As such, the most international business school in the Netherlands – Wittenborg – was an ideal choice. Upon graduating from high school in Italy, Zazzaro made the choice to leave her hometown of Milan to pursue a BBA of Marketing & Communications at Wittenborg in Apeldoorn. "I decided to study Marketing & Communication because I was interested in studying business; but at the same time, I wanted to leverage my creativity and passion for human sciences such as sociology," Zazzaro explains.
Currently, Zazzaro is back in her hometown working in a rewarding position for an Italian online retailer. "Right now, I'm working as Digital Performance Marketing Intern at YNAP in Milan. A great company which has incredible values," she enthuses. "My current role involves creating promotional campaigns and data analysis." Her goal is to continue growing as an international marketer working among people with different visions. "I believe that the best ideas come from different perspectives." She relies on the skills which she developed at Wittenborg for her current role, including international communication, dedication and the willingness for continued learning.
Practical Opportunities Refine Student Experience
Zazzaro says she learned important and practical lessons during her years at Wittenborg. "However, the two most important things which I have learned are that diversity is a plus for every team, and that execution is as important as planning to succeed in business." Zazzaro also served as a Student Ambassador and intern for the Admissions & Registry teams during part of her degree. "As a Student Ambassador, my main role was to help answer questions to prospective students and participate at different fairs and events, including with external partners," Zazzaro recounts. Her experience as Student Ambassador allowed her to meet people from all backgrounds, facilitating their education choices and helping them take up the same journey she did as an international student. She also served as an intern for the Admission & Registry offices.
"As an Admission & Registry intern, my main roles were reviewing freshman applications, assisting during the hiring process, helping students during the admission process, and working with the Sales & Marketing departments," notes Zazzaro. "It always made me happy to see that I could help others by doing little things which can impact a lot in a positive way. In addition, I really enjoyed going to different fairs around the Netherlands to represent the school."
She affirms that these opportunities at Wittenborg helped refine her as a budding professional. "I can say that these experiences were important for my professional development. I also had the opportunity to work with Maggie Feng, CEO of Wittenborg. Her incredible drive and vision have inspired me to pursue my ambitions." One thing Zazzaro majorly misses about her time at Wittenborg is the social environment developed by the administration. "I miss the environment that the university created where we all worked together by motivating and cheering each other."
Her advice to current Wittenborg students is to not take their time here for granted. "Enjoy every single moment because it is an amazing period for personal growth and development." Additionally, she reminds students to always be themselves, follow their passions and goals and to take risks.
"No one can stop you in achieving what you want, so just go for it!"
WUP 17/10/2022
by Olivia Nelson
©WUAS Press