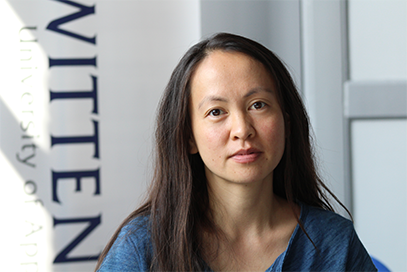 In 2015, the Netherlands was ranked the most charity-friendly country in the world. This was the cue for Canadian graduate, Su Ha, to investigate in her bachelor's degree thesis to what extent non-profit organisations (NPOs) in the country have embraced social media to raise their fundraising game.
Su, who came to the Netherlands in October 2015, is graduating this semester with a bachelor's degree in Business Administration. Wittenborg's 2017 Summer Graduation Ceremony is on 14 July at the Apeldoorn City Hall.
Her tip to Dutch authorities to attract international students is to make travel on public transport free or at least offer a discount. "It gives students the opportunity to see much more of the Netherlands, which in turn is good for Dutch tourism. Holland is so much more than just Amsterdam." Dutch authorities offers limited discounted fares on trains and buses to Dutch students as part of a student package. In Apeldoorn, Su lived with a Dutch family which gave her lots of insight in Dutch culture.
According to Su, she fell in love with Holland during a holiday visit, hence the desire to study here. Her advice for international students wishing to integrate quickly into Dutch society is to learn the language.
The Canadian native is considering a career in Holland's non-profit industry, and said through her research topic she wanted a greater understanding of the challenges and opportunities of social networking as a marketing tool for the NPO industry. She conducted interviews with various professionals in the industry from organisations such as the Salvation Army and Amref Flying Doctors.
Her study found that social networking to facilitate funds is still minimally used by NPOs, as the traditional door-to-door approach is considered more effective and more personal. "As one interviewee indicated, social networking is important, however, it is crucial to first build a network physically and then use social media tools to gain new supporters."
Su recommends that social networking be used to monitor, engage, listen and create a dialogue with the public. "It enables NPOs to build a relationship with donors, which creates awareness and gains prospective long-term supporters. This is a good starting point for NPOs which are in the experimentation phase. Furthermore, these platforms reduce marketing expenses and serve as market research, to provide insight into their target market and understand their needs, which is all valuable for long-term success."
WUP 12/7/2017
by Anesca Smith
©WUAS Press