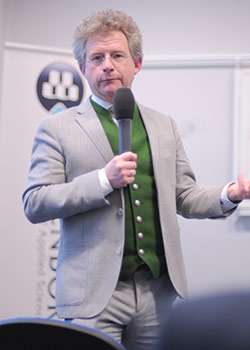 "Gelderland Province could Suffer a €25m Deficit if Britain Leaves the EU"
Brexit - a Messy Divorce
With the UK's messy divorce from the EU reaching boiling point this week, an executive member of Gelderland province, Michiel Scheffer, led a seminar talk at WUAS on Tuesday evening to shed light on the implications of Brexit for Gelderland province and Europe as a whole.
The seminar - which happened only hours before parliament rejected British prime minister Theresa May's Brexit deal for a second time - was attended by Wittenborg staff and students, including Wittenborg's chair of the executive board, Peter Birdsall, who was born in the UK, and Irish lecturer Daniel O'Connell.
The EU asserted in March 2017 that if no agreement is reached between the UK and the EU before the exit date of 29 March, the UK will have to pay Brussels £39 billion for outstanding financial commitments. Scheffer, who was also born in the UK, said if Britain leaves with no deal and fails to pay, companies in the Gelderland alone will suffer a deficit of €25 million.
Wittenborg has already started discussions with its long-term education partner in the UK, the University of Brighton, to minimise any possible disruptions caused by Brexit.
Scheffer predicted a long, hard road of negotiations ahead for the UK on trade and the free movement of people, whatever the outcome of various rounds of voting this week.
He outlined several ways the voting can go and the different models the UK might opt to emulate, including that of Norway, which he said was in a perpetual state of negotiations with the EU as it is not a member state but is associated with the block through more than 130 agreements, including the comprehensive European Economic Area (EEA) agreement. Through these agreements Norway incorporated roughly three quarters of EU legislation, but is not involved in making these laws.
"I get the sense that Brexit is not something that was well thought through. People seem to have forgotten how cumbersome it was to negotiate the terms around the EU prior to its formation in the 1990s."
General Election?
Meanwhile, Jeremy Corbyn, leader of the opposition in the British parliament, has called for a general election after May's second Brexit defeat.
WTO? - maybe not - at least the same status as North Korea
If no deal is reached before 29 March, the UK would automatically fall back on World Trade Organisation (WTO) rules - WTO is the place where countries negotiate the rules of international trade and there are 164 members; if they don't have free trade agreements with each other, they trade under WTO rules.
However, law experts have said that the UK would not be able to start trading automatically under WTO rules if it crashes out of the EU, and might have a 7-year wait ahead for frictionless, tariff-free trade under WTO rules. In the first instance the UK would be more comparable with North Korea in trading terms. The ensuing chaos could double food prices and plunge Britain into a recession that could last up to 30 years, the Guardian reports. These bleak predictions were echoed by Scheffer.
Under WTO rules cars would be taxed at 10% when they cross the UK-EU border and agricultural tariffs would be significantly higher, rising to an average of more than 35% for dairy products.
WUP 13/3/2019
by Anesca Smith
©WUAS Press