Food Security is Focus of Amsterdam Project Week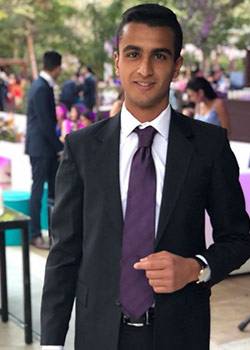 Wittenborg Amsterdam Students Compete with Thousands Around Globe for Hult Prize
In a first for Wittenborg University of Applied Sciences, students at its Amsterdam campus recently organised their own Project Week, which saw five groups competing with thousands of other students from around the world for the annual Hult Prize - developing a start-up idea with a huge impact, often around a single social issue. The theme for 2021 is "Food for Good". The students' mission is to transform food into a vehicle of change by creating jobs, stimulating economies, reimagining supply chains and improving outcomes for 10 million people by 2030. The prize is awarded by the Hult Prize Foundation.
The Project Week was led by final year undergraduate BBA student Sa'ad Daoud, who is from Jordan and studies at Wittenborg's Amsterdam campus and is the Hult Prize Campus Director. Daoud said, "Wittenborg is the first university in the Netherlands to adopt this programme".
"The Hult Prize is a global programme that I have recently started to work with which transforms how young people envision their own possibilities as leaders of change in the world around them. With a $l million start-up prize as its anchor activity, the Hult Prize has brought impact-focused programmes, events and trainings to over a million students globally, creating a pathway for youth everywhere to take action towards building a better world.
"The Hult Prize consist of 5 stages and the winner of each will move to the next stage, depending on the quality of their idea and the way they present it. Coming up with an idea related to a specific theme is similar to what we usually do in our project weeks; therefore, I thought it would be great to introduce this programme to Wittenborg and start competing internationally, expand our knowledge, get some exposure to the real world and most importantly, tackle a social issue.
"In 2021, the Hult Prize is asking teams around the world to build viable food enterprises that will impact the lives of 10 million people in the next decade while strengthening communities, increasing incomes, feeding the hungry and creating jobs. So, how great is it to be on a road towards a million dollars while still contributing to society and creating a sustainable world for the future?"
Wittenborg lecturer Andreas Ooijer said the groups came up with some excellent ideas. One of the teams looked at creating a system connecting local farmers directly with consumers of fresh produce. "You would be surprised how many farmers operate around Amsterdam," Ooijers said. "We are very proud of how they organised the Project Week and the ideas that the teams came up with."
WUP 10/4/2021
by James Wittenborg
©WUAS Press